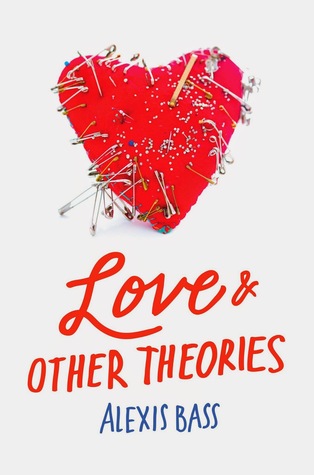 Love and Other Theories
by Alexis Bass
Publisher: HarperTeen
Release Date: December 31st 2014



If you want more, you have to give less.


That's the secret to dating in high school. By giving as little as they expect to get in return, seventeen-year-old Aubrey Housing and her three best friends have made it to the second semester of their senior year heartbreak-free. And it's all thanks toa Rafflecopter giveaway a few simple rules: don't commit, don't be needy, and don't give away your heart.


So when smoking-hot Nathan Diggs transfers to Lincoln High, it shouldn't be a big deal. At least that's what Aubrey tells herself. But Nathan's new-boy charm, his kindness, and his disarming honesty throw Aubrey off her game and put her in danger of breaking the most important rule of all: Don't fall in love.
Alexis Bass grew up in Washington, went to college in Arizona, and spent her early twenties in Seattle. She currently lives in Northern California with Dylan McKay, her gorgeous and rambunctious golden retriever. She loves good fashion and good TV as much as a good book, and is a huge advocate of the three C's: coffee, chocolate, and cheese. LOVE AND OTHER THEORIES is her first novel.
"Love doesn't have a definite set of rules. It's different for everyone, for every couple, for every culture."
Love & Other Theories is a young adult contemporary romance that is very different from any other contemporary I have ever read.
Here is a quote from the book that I found rather interesting:
TGS-The Girlfriend Stigma- a scientific term describing the disgrace girls face from guys when the girls appear to want to hold the title of "girlfriend."
The main character, Aubrey and her three friends Shelby, Danica, and Melissa have agreed on a "girl code" where they make a pact to play by the guy's rules when dating in order to prevent themselves from experiencing heartbreak. They all want to focus on "no strings" attached dating, no steady relationships, and everyone is available to date.
They are abiding by their pact until Nathan Diggs arrives in town. Nathan is sweet, charming, and very handsome. Aubrey and Nathan immediately hit it off and Aubrey breaks every rule in their pact....She falls in love.
Love & Other Theories is a story filled with teen drama, partying, drinking, lying, double-crossing, and LOTS of bad decisions. Bullying is also portrayed by several of the girls in this book which tended to draw me away from the focus on the book. I wanted to focus on the romance between Aubrey and Nathan and I had high hopes that their relationship would surpass the girl code and allow these young girls to experience all the happiness that love can bring.......BUT....there was a lot of sadness and anger instead. Overall, I enjoyed this book but still not sure about the ending and the main focus of the story...