Three Dark Crowns by Kendare Blake
Published by HarperTeen
Expected Publication Date: Sept. 20, 2016
Every generation on the island of Fennbirn, a set of triplets is born: three queens, all equal heirs to the crown and each possessor of a coveted magic. Mirabella is a fierce elemental, able to spark hungry flames or vicious storms at the snap of her fingers. Katharine is a poisoner, one who can ingest the deadliest poisons without so much as a stomachache. Arsinoe, a naturalist, is said to have the ability to bloom the reddest rose and control the fiercest of lions.

But becoming the Queen Crowned isn't solely a matter of royal birth. Each sister has to fight for it. And it's not just a game of win or lose…it's life or death. The night the sisters turn sixteen, the battle begins. The last queen standing gets the crown.

If only it was that simple. Katharine is unable to tolerate the weakest poison, and Arsinoe, no matter how hard she tries, can't make even a weed grow. The two queens have been shamefully faking their powers, taking care to keep each other, the island, and their powerful sister Mirabella none the wiser. But with alliances being formed, betrayals taking shape, and ruthless revenge haunting the queens' every move, one thing is certain: the last queen standing might not be the strongest…but she may be the darkest.
Pre-Order it:
Kendare Blake is the author of several novels and short stories, most of which you can find information about via the links above. Her work is sort of dark, always violent, and features passages describing food from when she writes while hungry. She was born in July (for those of you doing book reports) in Seoul, South Korea, but doesn't speak a lick of Korean, as she was packed off at a very early age to her adoptive parents in the United States. That might be just an excuse, though, as she is pretty bad at learning foreign languages. She enjoys the work of Milan Kundera, Caitlin R Kiernan, Bret Easton Ellis, Richard Linklater, and the late, great Michael Jackson, I mean, come on, he gave us Thriller.




She lives and writes in Kent, Washington, with her husband, their two cat sons (Tybalt and Tyrion Cattister) and their red Doberman dog son, Obi Dog Kenobi.
"Three Dark Queens
are born in a glen,
sweet little triplets
will never be friends
Three dark sisters
all fair to be seen,
two to devour
and one to be Queen."
SERIOUSLY.....SERIOUSLY.....OH MY WOW!!!! WOW WOW WOW!!!! I am completely and utterly in awe of you, Kendare Blake..You amaze me!!
Is it possible to give a book more than 5 stars...because if it were....this book would have TEN!!!!! I have loved all of Kendare's books but this one is by far my favorite!!!!
Let's begin with THAT cover...Yes...THAT COVER!!! Three crowns...each covered in something different. The first is covered in plants and flowers, the second is covered in fire and smoke, and the third is covered in snakes..yes...snakes. Seriously..if that doesn't grab your attention..nothing will!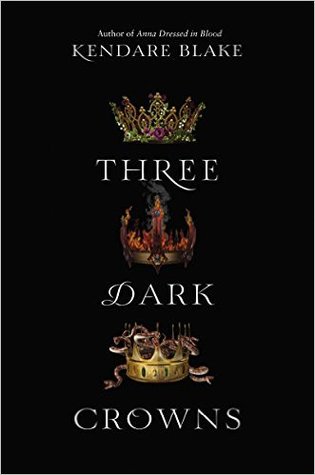 These three young queens are faced with an impossible future full of heartbreaking choices that no young girl should have to make. There are three queens but only one can reign....So the three queens are raised and taught to develop their special abilities in order to kill the other two and take the crown.
Katherine-The Poisoner
Arsinoe-The Naturalist
Mirabella- The Elemental
Katherine, Arsinoe, and Mirabella are triplets who are separated at the age of 6 and taken to their respective islands to be raised and trained in the art of their ability.
Katherine is fed deadly poisons throughout her entire life in order to make herself immune so that she can fight against her sisters.
Arsinoe can command any plant or animal and they will do her bidding which will help her in the final fight against her sisters.
Mirabella can command fire and the elements and by the very beginning you can tell she is the fiercest of them all and the most deadly.
Three Dark Crowns is told from each of the queens perspectives so you learn how each of them is living and dealing with their destiny. I loved how each of the queens are telling their own stories and you get to experience their lives with them and the people that they each love and care about and how this horrible fate is affecting them all. I found myself loving each of the queens which makes it so difficult to think that only one of them will survive to take the crown.
Each queen has close friends that they love so dearly and each has their own special story that is so full of feels, heartbreak, and yet.... hope....I loved each and every page of this book...I was flipping pages late into the night just to be able to read more about these characters....Kendare writes each one in a way that you really connect with them all and you feel what they are feeling and I just cannot describe how great that makes this book...I mean seriously....Kendare...you KNOW how to write a story...
I really liked how the book was not only about the three queens but also their friends and their stories as well. Two of my favorite characters besides the queens were Jules and Elizabeth...Oh I loved them and their animal companions....(You have to read the book to understand ;) )
"Jules is a Beltane Begot, a child conceived during the festival of Beltane, like the queens. It is considered very lucky, and they are all supposed to be charmed, but it is a horrible birthday to have. Forgotten and overshadowed."
I could just write and write about this book because I loved it so much...but I want to leave the secrets for each reader to experience themselves. I love fantasy books and this is by far my favorite of this year!!! Three Dark Crowns has it all...Fantasy, romance, heartbreak and FULL of suspense.....I highly recommend this book and I know you will enjoy it as much as me!!! and I cannot wait to read the next one...If Three Dark Crowns was this amazing...then I cant wait to see what the sequel has in store!! WOW!
Kendare Blake...YOU ROCK!!!!
**The quotes from this book have been taken from an Advanced Reading Copy and are subject to change when the final book is printed. Please refer to the final, finished copy for exact quotes!**
**I want to say Thank You to Kendare Blake & Harper Teen for the opportunity to review this book!!**