In the picture postcard village of Blossom Brook, Eliza Bluebell arrives changing the lives of the locals forever. With the help of her playful shadow, Eliza transforms an empty shop on the High Street into the heart and soul of the village. Find out how and read this fantastical story about friendship, butterflies and fairy cakes.


This book entices the reader into a new and magical world that appeals to both kids and adults. The reader can explore how the ordinary in life can be extraordinarily overlooked, how friendship can help you overcome life's difficulties and how accepting yourself is the biggest challenge of all.



Reading this story is a truly magical and uplifting experience that should not be missed. Read it today!
Purchase Links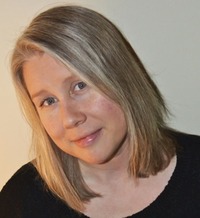 About me? Well, I am the author of The Delilah Dusticle Adventures, a middle grade fantasy series. I grew up in the UK, but was born in Gothenburg, Sweden. My childhood influences were a mix of Pippi Longstocking and The Flumps.

Things I like? Swedish cinnamon buns, yoga, tea, salt liquorice, sleeping on boats, compassion and other people's creativity. Things I do not like? Okra. The vegetable is also known as ladies fingers, which makes them even less appetising to me. Blah!



I have always enjoyed making up characters and their life stories, therefore I jumped at the chance to study theatre at the University of Brighton. I later trained as a drama teacher and I have a Master's degree from Goldsmiths University of London. I have gone back to my roots and I now live in Gothenburg. People have told me they love reading my stories and I hope you have fun reading them too!