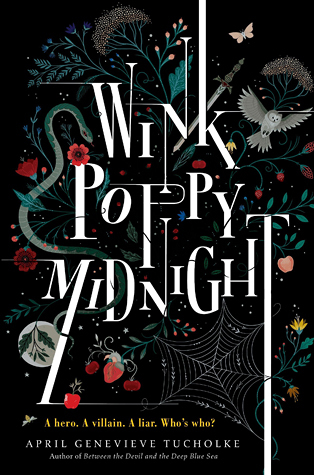 Hardcover, 352 pages
Expected publication: March 22nd 2016 by Dial Books
Every story needs a hero.

Every story needs a villain.

Every story needs a secret.




Wink is the odd, mysterious neighbor girl, wild red hair and freckles. Poppy is the blond bully and the beautiful, manipulative high school queen bee. Midnight is the sweet, uncertain boy caught between them. Wink. Poppy. Midnight. Two girls. One boy. Three voices that burst onto the page in short, sharp, bewitching chapters, and spiral swiftly and inexorably toward something terrible or tricky or tremendous.




What really happened?

Someone knows.

Someone is lying.
April Genevieve Tucholke is a full-time writer who digs classic movies, redheaded villains, big kitchens, and discussing murder at the dinner table. She and her husband—a librarian, former rare-book dealer, and journalist—live in Oregon. Between the Devil and the Deep Blue Sea is her first novel.
Contact April Here:
A hero. A villian. A liar.
First of all....that cover though...YEAH...AMAZING, CAPTIVATING, MYSTERIOUS!!
From the first glance I absolutely fell in love with the cover of Wink Poppy Midnight! and once you get into the story (the amazing story) you will realize that every object on the cover means something and tells a story in itself.
I literally opened this book and read it in one day...it was THAT good. I was completely and utterly obsessed with this book and literally devoured it. WOW...April Genevieve Tucholke amazes me..her writing skill is just mesmerizing and I could not turn pages fast enough. Every one of April Genevieve Tucholke's books have captivated me so when I saw that Wink Poppy Midnight was coming out soon then I KNEW I had to have it and I was not disappointed.
Wink Poppy Midnight is told by three characters who are all unique and mold the story into what it is. I loved each character and they all had a special part in creating the plot and I even liked Poppy even though she was the evil, rude, mean character in the story. She was a bully and yet it was fascinating to hear her side of the story and how she viewed everything that was happening.
Midnight was a strong character who has such a big heart and is such a strong character and yet Poppy always knew how to get his attention. When it came to Poppy...Midnight was in a matter of words, blind. It wasn't until Midnight met Wink that he began to see the world in a different light.
Wink was by far my favorite character. I loved her tenacity and her strong sense of worth. No one affected her and she always stood up for what she believed. She is such a free spirit and I loved her family and how they lived.
"We were like the three Fates, weaving the story together, threads of gold, red, and midnight blue."
Seriously...This is just such an phenomenal mystery and full of so many twists that I literally found myself staring at the pages with my mouth wide open in shock. (Which is why I am stopping the review here...because to give away any of this incredible story would be so sad...everyone needs to read this and experience the amazingness that is Wink Poppy Midnight by themselves) Cheers April Genevieve Tucholke...you did it again...and each time you write a story... I am more amazed and obsessed with you than I was before...Truly....Now I am ready for the next one...Like...NOW!!!
"What really happened?
Someone knows.
Someone is lying."
**The quotes from this book have been taken from an Advanced Reading Copy and are subject to change when the final book is printed. Please refer to the final, finished copy for exact quotes!**
**I want to say Thank You to Dial Books for the opportunity to review this book!!**