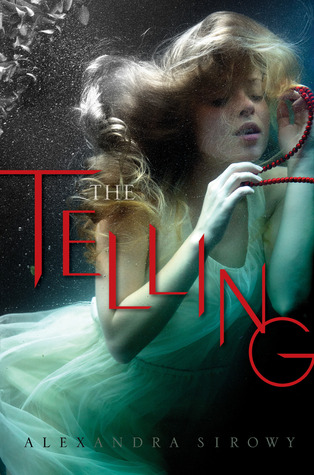 Book: The Telling
Author: Alexandria Sirowy
Hardcover, 387 pages
Publication Date: August 2nd 2016
Publisher: Simon & Schuster Books for Young Readers
Lana used to know what was real.




That was before when her life was small and quiet.

Her golden step-brother, Ben, was alive, she could only dream about bonfiring with the populars, their wooded island home was idyllic, she could tell the truth from lies, and Ben's childhood stories were firmly in her imagination.




Then came after.




After has Lana boldly kissing her crush, jumping into the water from too high up, and living with nerve and mischief. But after also has horrors, deaths that only make sense in fairy tales, and terrors from a past Lana thought long forgotten: Love, blood, and murder.
Order a SIGNED copy of THE TELLING from Books Inc..
OR just a plain unsigned copy Amazon.
Alexandra Sirowy was born in Northern California and grew up in Providence, Rhode Island and the San Francisco Bay Area. She attended a women's college as an undergraduate and has a graduate degree in International Studies. She lives in Northern California with her husband. Visit her at alexandrasirowy.com.
My love of ensemble casts runs deep. As a kid I watched and re-watched The Goonies and the Princess Bride, their dynamic, indomitable, plucky, and adventurous characters irresistible to me. My favorite book was LITTLE WOMEN, the interplay between the sisters taut and emotional.
Stakes are high in a thriller and there are no higher stakes than fighting to keep the ones you love alive. When I set out to write THE TELLING I wanted to give protagonist Lana friends and family she'd walk into battle for and the book well-developed secondary characters who are indispensable to the plot and enrich the mystery.
I think there's no better way to introduce THE TELLING and prepare for its August 2nd release then by introducing you to Lana, Ben, Carolynn, Willa, Becca, Josh, Duncan, and Rusty. These eight soon-to-be high school seniors live on Gant Island, a seemingly idyllic place in Washington State's Puget Sound. It's summertime and there's something dark and twisted afoot.
In today's post you'll meet four characters; the other four will be introduced tomorrow (7/28) at Chapter by Chapter (http://www.chapter-by-chapter.com/).
"There's space between what you see and what I feel. In my experience there's usually a line that separates what people choose to show the world and what they keep hidden. My small life of before was like that. I was an earthworm dreaming of being a python." THE TELLING
Rundown: THE TELLING's protagonist. 17-year-old Lana witnessed her step-brother Ben's death two month ago. Ever since, she's been trying to live like Ben did, with nerve and mischief. She's mustered the courage to hang out with the popular crowd, the kids her peers have called the core since forever, and she's planning on asking out her longtime crush. She's determined to find out who – or what – took Ben from her.
Personal Motto: I am a story.
Signature Summer Adventure: Cutting across the harbor in a dinghy, sailing on the Mira, playing scrabble on the terrace – anything, as long as it was with Ben.
Favorite Spot on Gant Island: Swisher Spring on the top of the ridge, toes curling over the edge, getting ready to jump. OR, On the terrace roasting marshmallows at midnight.
"Carolynn Winters is sunning herself below, keeping one bright fish eye on me. She's dazzling, confident, the kind of girl who never asks twice." THE TELLING
Rundown: Carolynn's mom and Lana's mom were best friends growing up on Gant Island. The memory of their moms' shared little idioms is all they've had in common since Lana's mom died thirteen years ago. But Lana's been hanging out with Carolynn's group this summer and Carolynn's queen bee act is cracking. They have a lot more in common than either wants to admit. Carolynn is whip-smart, sophisticated, and, when it counts most, the girl you want to have your back.
Personal Motto: Grin, grin, grin until you feel the smile taking root in your belly.
Signature Summer Adventure: Marmalade's Cafe drinking an iced mocha, whipped cream, caramel drizzle, and chocolate shavings – the sweeter the better.
Favorite Gant Island Spot: The lighthouse on the southern point of the island where she likes to spook her dates with ghost stories.
"The boys used to push us off the swings. It was a game – knock the girls on their butts. Not Duncan. If he came up behind you, it was to push you higher. He wanted you to fly." THE TELLING
Rundown: At first glance, Duncan is all aviators, hair gel, boat shoes, and a cocky attitude. As long as he's getting girls, he's happy. But Duncan also takes his two younger brothers for bike rides every Sunday and Carolynn believes there's more to him. She remembers what he was like when he was little. She blames his dad's expectations for Duncan's attitude. And she's guarding a big secret about Duncan.
Personal Motto: Never without my stunners on.
Signature Summer Adventure: What he'd want you to think: Anything with girls in swimsuits. But really: Mountain biking with his little bros.
Favorite Gant Island Spot: The mountain bike trails that crisscross Gant Island's forests.
"I get a whiff of Josh's freshly laundered shirt. Josh is the kind of boy who eats kale salad at dinner with his moms and has a clean room and laundry folded in his dresser drawers and doesn't know what it's like to get picked last. What happens to boys like Josh in jail?" THE TELLING
Rundown: Josh isn't just a nice guy, he's the nicest. Lana's had it bad for Josh since she laid eyes on him in his red corduroy pants the first day of pre-school. This summer has been twelve years in coming; Lana's dream comes true when Josh strolls up to her at the coffee shop to invite her to a bonfire. He's been right there helping her grieve her dead step-brother, and he's right there, close to the danger, when she sets out to solve the mysteries piling up on Gant.
Personal Motto: Nice guys always finish first.
Signature Summer Adventure: Throwing cookouts on the beach for all of his friends.
Favorite Spot on Gant Island: His house – sitting on the kitchen counter eating a freshly baked batch of cookies or throwing a house party while his moms are in Seattle for the weekend.
Two winners will receive a copy of The Telling and SWAG!! (US & Canada)