"Colleen Hoover reminds readers that love is a fragile thing, built from courage, hope, and tears. Every person with a heartbeat should read this book."
– Kami Garcia, #1 New York Times bestselling author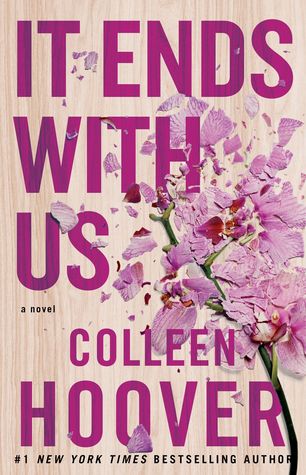 Book: It Ends With Us
Author: Colleen Houck
Hardback Edition, 384 pages
Published: August 2nd 2016
Publisher: Atria Books
Lily hasn't always had it easy, but that's never stopped her from working hard for the life she wants. She's come a long way from the small town in Maine where she grew up—she graduated from college, moved to Boston, and started her own business. So when she feels a spark with a gorgeous neurosurgeon named Ryle Kincaid, everything in Lily's life suddenly seems almost too good to be true.




Ryle is assertive, stubborn, maybe even a little arrogant. He's also sensitive, brilliant, and has a total soft spot for Lily. And the way he looks in scrubs certainly doesn't hurt. Lily can't get him out of her head. But Ryle's complete aversion to relationships is disturbing. Even as Lily finds herself becoming the exception to his "no dating" rule, she can't help but wonder what made him that way in the first place.




As questions about her new relationship overwhelm her, so do thoughts of Atlas Corrigan—her first love and a link to the past she left behind. He was her kindred spirit, her protector. When Atlas suddenly reappears, everything Lily has built with Ryle is threatened.




With this bold and deeply personal novel, Colleen Hoover delivers a heart-wrenching story that breaks exciting new ground for her as a writer. Combining a captivating romance with a cast of all-too-human characters, It Ends With Us is an unforgettable tale of love that comes at the ultimate price.
Grab your copy of IT ENDS WITH US:
Colleen Hoover is the #1 New York Times bestselling author of Slammed, This Girl, Point of Retreat, Hopeless, Losing Hope, Finding Cinderella, Maybe Someday, Ugly Love, Maybe Not, and Confess. She lives in Texas with her husband and their three boys. Please visit ColleenHoover.com.
I LOVED this book! Shout out for the Rodan + Fields mention😉😍. I have never thought much about what it is like for a woman to truly be in love with a man that has physically hurt her. My favorite chapter was the one where Lily gave birth to her daughter. That gave me all the feels...anger, happiness, hope and peace!
Those questions she asked Ryle...heartbreaking! I cried like a baby. I fell in love with Ryle as well and it was so hard to stay mad at him. I seriously loved everything about this book! Colleen Houck is now on my list of favorite authors!!! What an amazing book!! I recommend this book to anyone who loves romance and a beautiful story!!
Outstanding writing! 5 stars!!
Tuesday, August 2nd
BROOKLINE BOOKSMITH
7:00 PM
279 Harvard Street
Brookline, MA 02446
Wednesday, August 3rd
SHORT STORIES COMMUNITY BOOK HUB
7:00 PM
23 Main Street
Madison, NJ 07940
Thursday, August 4th
STRAND BOOK STORE
7:00 PM
828 Broadway
New York, NY 10003
Friday, August 5th
JOSEPH-BETH BOOKSELLERS
7:00 PM
2692 Madison Road
Cincinnati, OH 45208
Saturday, August 6th
ANDERSON'S BOOKSHOP
2:00 PM
Meiley-Swallow Hall
On the campus of North
Central College 31 S Ellsworth Street
Naperville, IL 60540
Sunday, August 7th
CHEVALIER'S BOOKS
6:30 PM
126 N. Larchmont Blvd.
Los Angeles, CA 90004
Monday, August 8th
CHANGING HANDS BOOKSTORE
7:00 PM
6428 S. McClintock Drive
Tempe, AZ 85283
Tuesday, August 9th
BARNES & NOBLE – Town & Country
7:00 PM
12850 Memorial Drive
Houston, TX 77024
Wednesday, August 10th
HALF PRICE BOOKS
7:00 PM
5803 E. Northwest Hwy
Dallas, TX 75231