Waiting on Wednesday is a weekly event that is hosted by Jill at
and spotlights upcoming releases that we're eagerly anticipating.
The Diabolic (S.J. Kincaid)
Author: S.J. Kincaid
Book: Hardcover, 416 pages
Expected publication: November 1st, 2016
Publisher: Simon & Schuster Books For Young Readers
Red Queen meets The Hunger Games in this epic novel about what happens when the galaxy's most deadly weapon masquerades as a senator's daughter and a hostage of the galactic court.
A Diabolic is ruthless. A Diabolic is powerful. A Diabolic has a single task: Kill in order to protect the person you've been created for.
Nemesis is a Diabolic, a humanoid teenager created to protect a galactic senator's daughter, Sidonia. The two have grown up side by side, but are in no way sisters. Nemesis is expected to give her life for Sidonia, and she would do so gladly. She would also take as many lives as necessary to keep Sidonia safe.
When the power-mad Emperor learns Sidonia's father is participating in a rebellion, he summons Sidonia to the Galactic court. She is to serve as a hostage. Now, there is only one way for Nemesis to protect Sidonia. She must become her. Nemesis travels to the court disguised as Sidonia—a killing machine masquerading in a world of corrupt politicians and two-faced senators' children. It's a nest of vipers with threats on every side, but Nemesis must keep her true abilities a secret or risk everything.
As the Empire begins to fracture and rebellion looms closer, Nemesis learns there is something more to her than just deadly force. She finds a humanity truer than what she encounters from most humans. Amidst all the danger, action, and intrigue, her humanity just might be the thing that saves her life—and the empire.
Poison's Kiss (Breeana Shields)
Author: Breeana Shields
Book: Hardcover, 304 pages
Expected publication: January 10th, 2017
Publisher: Random House Books For Young Readers
A teenage assassin kills with a single kiss until she is ordered to kill the one boy she loves. This commercial YA fantasy is romantic and addictive like-- a poison kiss-- and will thrill fans of Sarah J. Maas and Victoria Aveyard.
Marinda has kissed dozens of boys. They all die afterward. It s a miserable life, but being a visha kanya a poison maiden is what she was created to do. Marinda serves the Raja by dispatching his enemies with only her lips as a weapon.
Until now, the men she was ordered to kiss have been strangers, enemies of the kingdom. Then she receives orders to kiss Deven, a boy she knows too well to be convinced he needs to die. She begins to question who she s really working for. And that is a thread that, once pulled, will unravel more than she can afford to lose.
This rich, surprising, and accessible debut is based in Indian folklore and delivers a story that will keep readers on the edge of their seats.
Spare and Found Parts (Sarah Maria Griffin)
Author: Sarah Maria Griffin
Book: Hardcover, 304 pages
Expected publication: October 4th, 2016
Publisher: Greenwillow Books
Nell Crane has always been an outsider. In a city devastated by an epidemic, where survivors are all missing parts—an arm, a leg, an eye—her father is the famed scientist who created the biomechanical limbs everyone now uses. But Nell is the only one whose mechanical piece is on the inside: her heart. Since the childhood operation, she has ticked. Like a clock, like a bomb. As her community rebuilds, everyone is expected to contribute to the society's good . . . but how can Nell live up to her father's revolutionary idea when she has none of her own?
Then she finds a mannequin hand while salvaging on the beach—the first boy's hand she's ever held—and inspiration strikes. Can Nell build her own companion in a world that fears advanced technology? The deeper she sinks into this plan, the more she learns about her city—and her father, who is hiding secret experiments of his own.
Blood Rose Rebellion (Rosalyn Eves)
Author: Rosalyn Eves
Book: Hardcover, 416 pages
Expected publication: March 28th, 2017
Publisher: Knopf Books For Young Readers
The thrilling first book in a YA fantasy trilogy for fans of Red Queen. In a world where social prestige derives from a trifecta of blood, money, and magic, one girl has the ability to break the spell that holds the social order in place.
Sixteen-year-old Anna Arden is barred from society by a defect of blood. Though her family is part of the Luminate, powerful users of magic, she is Barren, unable to perform the simplest spells. Anna would do anything to belong. But her fate takes another course when, after inadvertently breaking her sister's debutante spell—an important chance for a highborn young woman to show her prowess with magic—Anna finds herself exiled to her family's once powerful but now crumbling native Hungary.
Her life might well be over.
In Hungary, Anna discovers that nothing is quite as it seems. Not the people around her, from her aloof cousin Noémi to the fierce and handsome Romani Gábor. Not the society she's known all her life, for discontent with the Luminate is sweeping the land. And not her lack of magic. Isolated from the only world she cares about, Anna still can't seem to stop herself from breaking spells.
As rebellion spreads across the region, Anna's unique ability becomes the catalyst everyone is seeking. In the company of nobles, revolutionaries, and Romanies, Anna must choose: deny her unique power and cling to the life she's always wanted, or embrace her ability and change that world forever.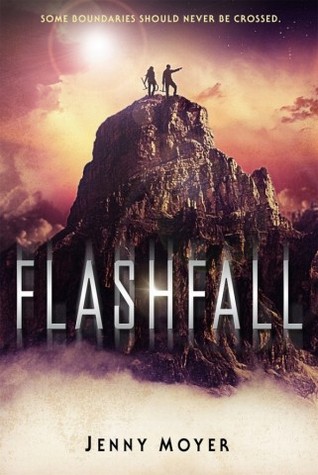 Author: Jenny Moyer
Book: Hardcover, 352 pages
Expected publication: November 15th, 2016
Publisher: Henry Holt BYR
Orion is a Subpar, expected to mine the tunnels of Outpost Five, near the deadly flash curtain. For generations, her people have chased cirium—the only element that can shield humanity from the curtain's radioactive particles. She and her caving partner, Dram work the most treacherous tunnel, fighting past flash bats and tunnel gulls, in hopes of mining enough cirium to earn their way into the protected city.
But when newcomers arrive at Outpost Five, Orion uncovers disturbing revelations that make her question everything she thought she knew about life on both sides of the cirium shield. As conditions at the outpost grow increasingly dangerous, it's up to Orion to forge a way past the flashfall, beyond all boundaries, beyond the world as she knows it.
What books are you waiting for??