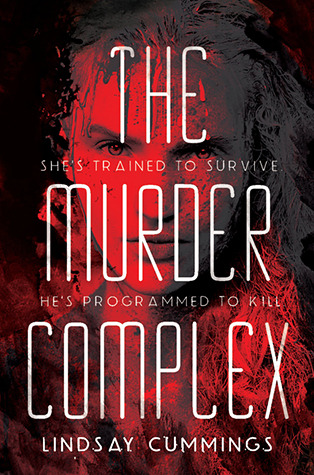 The Murder Complex (The Murder Complex #1) by Lindsay Cummings
Publisher: Greenwillow Books
Release Date: June 10th 2014
An action-packed, blood-soaked, futuristic debut thriller set in a world where the murder rate is higher than the birthrate. For fans of Moira Young's Dust Lands series, La Femme Nikita, and the movie Hanna.




Meadow Woodson, a fifteen-year-old girl who has been trained by her father to fight, to kill, and to survive in any situation, lives with her family on a houseboat in Florida. The state is controlled by The Murder Complex, an organization that tracks the population with precision.




The plot starts to thicken when Meadow meets Zephyr James, who is—although he doesn't know it—one of the MC's programmed assassins. Is their meeting a coincidence? Destiny? Or part of a terrifying strategy? And will Zephyr keep Meadow from discovering the haunting truth about her family?




Action-packed, blood-soaked, and chilling, this is a dark and compelling debut novel by Lindsay Cummings.
"Commandment One: Honor the Initiative.
Commandment Two: Thou shalt not attempt to cross the perimeter.
Commandment Three: Honor the Silent Hour.
Commandment Four: Thou shalt not harbor useful items from the days Before."
I could not wait to get my hands on The Murder Complex. The first thing that grabbed my attention was the phenomenal cover. Meadow looks so intense, focused, and murderous. Ummm yeah..I had to read it!!
From the first page I knew I liked this book. I am obsessed with survival stories and this is the definition of a survival story. Meadow, a young girl, has been trained by her father her whole life to survive. The world that Meadow and her family live in is strictly governed by a harsh government who hears and sees everything.
The Murder Complex is exactly that. A complex story about murder, lies, and survival. Meadow faces so many trials and tribulations in such a short time. She meets a young boy,Zepher, and is immediately captivated by him. They fight alongside each other in this intense, fast-paced story.
"The image of his face, with his oddly imperfect smile, and his emerald eyes, haunts me the rest of the day."
I thoroughly enjoyed The Murder Complex and found myself unable to put the book down at times. There are SO many twists and turns and so many questions that still need to be answered!! I am really looking forward to the sequel!!! Lindsay Cummings is a debut author that has entered the YA scene with a bang!!!! and the final sentence of the book?? Totally rocked!!
"Count to three. Relax your mind. Now survive."
Follow the FFBC The Murder Complex + Fear Trials blog tour and don't miss anything! Click on the banner to see the tour schedule.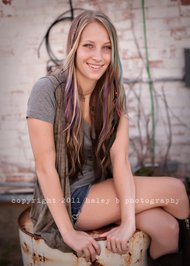 Lindsay Cummings is the 20-year-old author of THE MURDER COMPLEX, as well as its sequel, coming 2014 from Greenwillow Books/HarperCollins, and the MG trilogy THE BALANCE KEEPERS, coming Fall 2014 from Katherine Tegen Books/HarperCollins.
Lindsay deals with chronic fatigue, can't get enough of her two pesky German Shepherds, wolf cub, and two horses. She's still waiting on her letter from Hogwarts--it was probably just lost in the mail. You can follow Lindsay on twitter @lindsaycwrites
Win (1) of (3) signed hardback of The Murder Complex + swag pack (US Only)