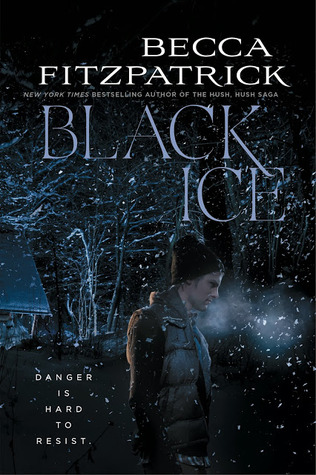 Hardback, 400 pages
Expected publication: October 7th 2014 by Simon & Schuster
ARC Provided by Publisher for Honest Review
Sometimes danger is hard to see... until it's too late.

Britt Pfeiffer has trained to backpack the Teton Range, but she isn't prepared when her ex-boyfriend, who still haunts her every thought, wants to join her. Before Britt can explore her feelings for Calvin, an unexpected blizzard forces her to seek shelter in a remote cabin, accepting the hospitality of its two very handsome occupants—but these men are fugitives, and they take her hostage.

In exchange for her life, Britt agrees to guide the men off the mountain. As they set off, Britt knows she must stay alive long enough for Calvin to find her. The task is made even more complicated when Britt finds chilling evidence of a series of murders that have taken place there... and in uncovering this, she may become the killer's next target.

But nothing is as it seems in the mountains, and everyone is keeping secrets, including Mason, one of her kidnappers. His kindness is confusing Britt. Is he an enemy? Or an ally?



BLACK ICE is New York Times bestselling author Becca Fitzpatrick's riveting romantic thriller set against the treacherous backdrop of the mountains of Wyoming. Falling in love should never be this dangerous…
Becca Fitzpatrick grew up reading Nancy Drew and Trixie Belden with a flashlight under the covers. She graduated college with a degree in health, which she promptly abandoned for storytelling. When not writing, she's most likely prowling sale racks for reject shoes, running, or watching crime dramas on TV. She is the author of the bestselling HUSH, HUSH Saga. Her new book BLACK ICE arrives in bookstores everywhere October 7, 2014.
Black Ice is one of the most intense and suspenseful books that I have read so far this year. This book is just absolutely phenomenal. This is one of those books that is the DEFINITION of page turner!!!! I mean...just WOW... Black Ice is in a league of its own in the YA industry. It has it all...I mean there just aren't enough words to describe how incredible this book is! and that cover!!??? Seriously? It just portrays the image of danger and suspense.....
Britt Pfeiffer is one of those characters that you just immediately connect with. Fitzpatrick has created an well-drawn, dynamic character her main character, Britt. Britt and her best friend, Korbie have planned a spring break getaway at Korbie's parents home in the Tetons of Wyoming. She has prepared for this getaway for weeks and has trained diligently for the back-packing trip she has planned.
Days before they leave for their trip, Britt and Korbie find out that Korbie's older brother, Calvin, who is also Britt's ex....will be chaperoneing them on this trip. This news is devestating to Britt because it has taken her months to get over Calvin but she is determined to set her feelings aside and have a good trip with her best friend.
Britt and Korbie head off to the mountains and get stuck in a snowstorm before they reach the cabin. They decide to try and reach shelter and come across a cabin way back in the woods and when they knock on the door they are welcomed by two handsome young men who dont really seem to belong.
One of the young guys, Mason, seem to be trying to help Britt and acts very strangely when she continues to ask questions. He begins to be very rude and warns her that she needs to leave as soon as possible. Britt doesnt listen and soon discovers the remains of a dead body in the cabin but by this time it is too late.
This begins an incredible, intense, heart-pounding journey for Britt. Little does she know but these two young men are really fugitives running from the law. Britt doesnt know the reason why they are fugitives but she is determined to find an answer.
There is a unforseen romance that begins and it is just breath-taking. It is the perfect romance written into a survival story where two people are not sure if they will be alive when they wake up. I loved it...I loved every minute of it and it felt so right for the two characters involved..(no spoilers..sorry)
Black Ice is one of the most incredible, addictive, frightening mysteries I have ever read. There are so many twists and turns and at times I found myself gasping and just staring at the pages. I mean...that really couldnt have just happened?? Did it? Seriously? I just literally LOVED this book. This is one of those books that I could just re-read over and over...yes it was that intense....The characters were phenomenal, the story was addictive, and the scenery just completed the whole package. Stranded in a snow storm, fighting to survive, and knowing there is a killer out there?? Ummmm Yes please......HA!