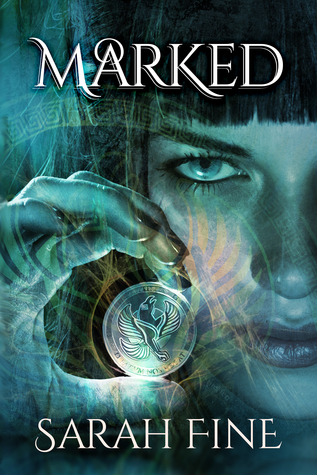 Hardback, 332 pages
Expected publication: January 1st 2015
Publisher: 47North (Amazon)
Author: Sarah Fine
In a broken landscape carved by environmental collapse, Boston paramedic Cacia Ferry risks life and limb on the front lines of a fragile and dangerous city. What most don't know—including her sexy new partner, Eli Margolis—is that while Cacy works to save lives, she has another job ferrying the dead to the Afterlife. Once humans are "Marked" by Fate, the powerful Ferrys are called to escort the vulnerable souls to either eternal bliss or unending fire and pain.




Unaware of Cacy's other life, Eli finds himself as mesmerized by his fierce and beautiful partner as he is mistrustful of the influential Ferry clan led by the Charon—who happens to be Cacy's father. Cacy, in turn, can no longer deny her intense attraction to the mysterious ex-Ranger with a haunted past. But just as their relationship heats up, an apparent hit takes the Charon before his time. Shaken to the core, Cacy pursues the rogue element who has seized the reins of Fate, only to discover that Eli has a devastating secret of his own. Not knowing whom to trust, what will Cacy have to sacrifice to protect Eli—and to make sure humanity's future is secure?
Sarah Fine was born on the West Coast, raised in the Midwest, and is now firmly entrenched on the East Coast, where she lives with her husband and two children. When she's not writing, she's working as a child psychologist. No, she is not psychoanalyzing you right now.



Website: http://sarahfinebooks.com/

For more information about the Guards of the Shadowlands series, and to read excerpts from Malachi's personal journals, visit www.GuardsOfTheShadowlands.tumblr.com
"In post-apocalyptic Boston,
supernatural factions battle for human souls."
Ah...I wasn't sure that I could love another book as much as I loved Sarah Fine's Guard of the Shadowlands series...BUT....I not only loved Marked...I am completely and utterly obsessed with it. I literally could not put this book down. I read the entire book in one day.
Marked is an adult paranormal romance that is takes place in a post-apocalyptic Boston. There is desert land everywhere and water is a scarce commodity due to an environmental collapse. The main character, Cacia Ferry, (also known as Cacy) is a paramedic by day and by night she ferry's the dead to the Afterlife. Cacy's entire family are Ferry's who escort souls to either Heaven or Hell after they have passed from this world. The Ferry's are the only ones who can enter The Veil, which is the place between life and death. There are also supernatural entity's called Ker whom the Ferry's have to deal with. The Kere are the ones who "mark" the humans for death and basically choose how they die. Some of the Kere are kind and use their skill to end the suffering of people in pain but most of the Kere are cruel and mean and enjoy inflicting very painful deaths on their targets.
I loved Cacy's character because she was a strong female heroine who knew when to express her emotions and when to contain them. She is dedicated to her job and to her family and would do anything to protect them. Her father, Patrick Ferry, is the head of the family and also known as the Charon. She has two brothers, Rylan and Declan and one sister, Aislan.
"Eli stared at the woman, whose gaze remained on her father. It was such a protective expression, which was funny because she looked too soft and sweet to do much damage. Still, there was something ferocious in her eyes, a warning, a promise."
Cacy's new partner, Eli Margolis, has just moved to the city and lives with his sister, Galena. Eli is everything a woman would want in a man..... kind, strong , protective, and incredibly handsome. Eli is loyal and fiercely protective over the people he loves. Cacy and Eli have an instant connection the moment they meet. Their chemistry is obvious to everyone around them and causes a lot of tension within the workplace. Their relationship sets of a chain of events that affects everyone around them.
"I don't believe in deserving. You haven't deserved most of what happened to you. But it happened anyway. So did we. We happened, Eli. I'm so thankful for that. I love you."
Sarah Fine has a remarkable skill with her writing in how she connects the reader to her characters. Her writing is so full of emotion and I literally feel like I am experiencing every wonderful moment and every heart-breaking moment with the characters. I began reading Marked without realized it was written as an adult paranormal romance and WOW did I learn quickly.....I am a huge YA fan but every now and then it is nice to venture over to the adult genre and Marked was an refreshing, phenomenal adult book.
Marked is full of intense action scenes, gripping suspense, and a swoon-worthy romance. Each emotion is carefully entwined within the story to make this book absolutely incredible. Sarah Fine has broke the bar with Marked...I can't even begin to imagine how amazing the sequel will be. I can't wait to delve deeper into the characters and learn more about the rest of the Ferry family. There are some mind-blowing twists at the end of Marked that I never even fathomed could happen.....but they did....and it makes me want the next book SOOOO bad!!!
.....oh and the cover of Marked....is seriously incredible....WOW!!!!!!
**The quotes from this book have been taken from an Advanced Reading Copy and are subject to change when the final book is printed. Please refer to the final, finished copy for exact quotes!**
**I want to say Thank You to 47North/Amazon for the opportunity to review this book!!**