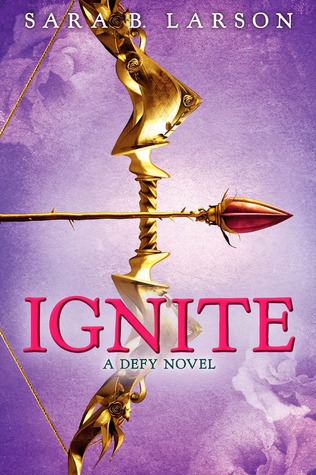 Hardback, 304 pages
Expected publication: December 30th 2014
Publisher: Scholastic Press
Author: Sara B Larson
Murder, abductions, and forbidden romance abound in this thrilling sequel to Sara B. Larson's acclaimed YA debut, DEFY.




Alexa remains by the newly crowned King Damian's side as his guard, ever committed to helping him rebuild Antion and reclaim the hope of Antion's people, despite continuing to harbor a secret love for him. However, when another threat to Damian and his kingdom emerges, and blame is cast on their newly forged allies from Blevon, Alexa knows things are not what they seem. With the fate of her nation hanging in the balance once again, will Alexa be able to protect her king and uncover the true enemy -- before it's too late?
Sara's debut YA fantasy novel, DEFY, released in January of 2014 from Scholastic. The sequel will come out in early 2015--stay tuned for announcements about the title, cover, and synopsis! Sara lives in Utah with her husband and three young children. She writes during naptime and the hours when most people are sleeping. Her husband claims she should have a degree in "the art of multitasking." On occasion you will find her hiding in a bubble bath with a book and some Swedish Fish or some mint chocolate truffles. She is represented by Josh Adams of Adams Literary.
"Without letting myself think or question what I was doing, I lifted my face to his. This was what I wanted--he was what I wanted. Who I needed. I'd been a fool to reject him. He'd been a fool to believe me. Did he truly think I could stop loving him so easily? When he looked at me as he was now, with a hunger and need to match mine so evident on his beautiful face and in his eyes. I knew he didn't see my scars--inside or out. He only saw me. Alexa."
Defy was one of my favorite books of 2014. I loved everything about it from the high fantasy to the breath-taking romance...so when I saw the sequel was about to come out then I KNEW I had to have it....and I was not disappointed!!

And how about the COVER?? I mean seriously??? What an incredible cover that is full of color and depth that can attract readers from a mile away. I love the use of the arrow in this book since Defy had a sword. It portrays that there will be fighting and adventure within this incredible book. ....I wonder what will be used in the final book?

Ignite is the perfect name for this phenomenal novel. Let me explain why I say this....This phenomenal novel will "ignite" your desire to read and to NOT PUT DOWN THIS BOOK!! Ignite is a high-fantasy novel full of intense action scenes, mystery, murder, and a beautiful forbidden romance. I am just completely obsessed with this fantastic trilogy. Each book is so full of intrigue and intense emotion. I absolutely loved each and every chapter.

The main character, Alexa, is now openly known as a female. During the first book, Defy, she had to pretend to be a young boy in order to join the King's guard. Now everyone accepts her as a female and they also respect her because of her fighting abilities and her dedication to protect her King and country. Alexa and King Damien fell in love at the end of Defy and Ignite picks up right where Defy ended. Alexa loves Damien but she is determined to not let her feelings get in the way of protecting her King and the Kingdom. She feels as though she does not deserve King Damien and that their love might come between King Damien and his ability to rule his Kingdom.

"I was--I am -- afraid, Damien. I'm not fit to be your queen. You need to think of what's best for your kingdom-- and that would be someone of noble birth. Someone who could help solidify one of our alliances, The people of Antion deserve a queen who is equal to their king. Not your scarred guard. If they saw me on the throne beside you..." I trailed off, remembering the girls' mocking giggles at that dinner, Miss Truhoft's look of disbelief just a few moments ago when she saw us doing nothing more than holding hands." "It would diminish your power to ave me at your side, It was never about you not being good enough. It's about me. I don't deserve you. All I know how to do is fight--I don't know how to rule a kingdom at your side. I am the the one who isn't good enough for YOU."
Alexa is such an phenomenal, strong, kick-ass heroine. She has such strong emotions and yet she knows that through everything her sole job is to protect the kingdom and its King. She puts all her feelings aside to protect others. All through Ignite there are many secrets revealed that should have been enough to cause the kingdom to crumble but because of Alexa and her leadership she is able to hold the kingdom together and prepare to fight the evil that is attempting to take over.
Everything about Ignite was just phenomenal. I literally could not put the book down. At the turn of each page there was a new adventure awaiting Alexa and a new enemy to conquer. Ignite was full of adventure and excitement but my favorite part about the entire book was the love story between Damien and Alexa. The two of them together proves that love can conquer all even through all the trials and tribulations that Damien and Alexa face....their love for each other never wavers.
"Manu's warning that my love for him would be my downfall prickled at the back of my mind, but I refused to listen to it. He was wrong. Our love made us stronger--not weak."
This series is one of my all-time favorite series and I literally cannot wait to get my hands on the conclusion to this series. As much as I don't want it to end....I cant wait to see what happens next. After all they have been through....what can possibly be next?? What evil is coming to try to break them apart and break up the kingdom?? Will Damien and Alexa end up together? Will their love bring the kingdom together and help its people flourish??
Sara B Larson....you are a PHENOMENAL writer and the depth and emotion that you place in your books is exactly why each books grabs readers and never lets go. The stories you write are ones that stay with the reader long after the last page is turned.....I cannot wait to see what future books you have in store...I know they are going to be amazing.....
**The quotes from this book have been taken from an Advanced Reading Copy and are subject to change when the final book is printed. Please refer to the final, finished copy for exact quotes!**
**I want to say Thank You to Scholastic for the opportunity to review this book!!**