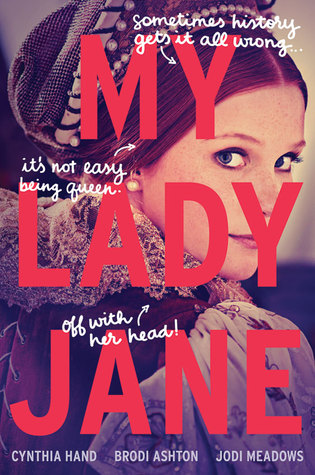 Book: My Lady Jane
Authors: Cynthia Hand, Brodi Ashton, Jodi Meadows
Hardcover, 512 pages
Expected publication: June 7th 2016
Publisher: HarperTeen
The comical, fantastical, romantical, (not) entirely true story of Lady Jane Grey. In My Lady Jane, coauthors Cynthia Hand, Brodi Ashton, and Jodi Meadows have created a one-of-a-kind fantasy in the tradition of The Princess Bride, featuring a reluctant king, an even more reluctant queen, a noble steed, and only a passing resemblance to actual history—because sometimes history needs a little help.





At sixteen, Lady Jane Grey is about to be married off to a stranger and caught up in a conspiracy to rob her cousin, King Edward, of his throne. But those trifling problems aren't for Jane to worry about. Jane gets to be Queen of England.
Brodi Ashton is the author of the EVERNEATH trilogy. and the forthcoming DIPLOMATIC IMMUNITY with Balzer and Bray. She received a bachelor's degree in journalism from the University of Utah and a master's degree in international relations from the London School of Economics. Brodi has an active following on her blog, which can be found at www.brodiashton.blogspot.com. She lives in Utah with her family. Follow her on Twitter at @brodiashton.
Cynthia Hand is the New York Times bestselling author of the UNEARTHLY trilogy. After receiving graduate degrees in creative writing from Boise State University and the University of Nebraska-Lincoln, she went on to teach fiction and young adult literature at Pepperdine University. She and her family now reside in Idaho. Her most recent contemporary YA, THE LAST TIME WE SAY GOODBYE, was just released in February 2015. Find her at www.cynthiahandbooks.com or @CynthiaHand on Twitter.
Jodi Meadows lives and writes in the Shenandoah Valley, Virginia, with her husband, a Kippy*, and an alarming number of ferrets. She is a confessed book addict, and has wanted to be a writer ever since she decided against becoming an astronaut. She is the author of the INCARNATE Trilogy and the ORPHAN QUEEN Duology (HarperCollins/ Katherine Tegen). Visit her at www.jodimeadows.com

*A Kippy is a cat.
"
You may think you know the story. It goes like this: once upon a time, there was a sixteen-year-old girl named Jane Grey, who was forced to marry a complete stranger (Lord Guildford or Gilford or Gifford-something-or-other), and shortly thereafter found herself ruler of a country, She was queen for nine days. Then she quite literally lost her head....
But.....
We have a different story to tell...."
So that was the beginning of this AMAZING book and after reading just that first paragraph...I was HOOKED. I literally devoured this fascinating, amazing, un-put-down-able book and didn't want it to end.
So not only was the book amazing but how about that cover? Seriously? The cover is one of my most favorite covers ever. How can you not love it? "Off with her head" "Sometimes history gets it all wrong" "it's not easy being queen" ...Can you say obsessed? Because I AM!!!
My Lady Jane is a "not so accurate" retelling of The Lady Jane Grey's story in history. Lady Jane's dear friend is the King of England, Edward. Edward begins to get sick and the doctors say he has no hope and so therefore he must announce a successor because he is so young and yet to have an heir. Edward is nudged by his advisor, Lord Dudley, to name Lady Jane Grey as his successor. Little does Edward know but Lord Dudley has a sinister plan in mind and intends to marry his son, Gifford to Lady Jane in order to control the kingdom. But King Edward is not as dumb as Lord Dudley may think and he has some plans that will counteract Lord Dudley's and then begins the amazing story that is My Lady Jane.......
My Lady Jane has it all....comedy, drama, romance, action, fantasy, and even some really interesting magical aspects added in the mix! The historical details of My Lady Jane are expertly crafted to resemble the real story and yet create a much more entertaining fictional story.
The story is told from the three main character's point of views. Those characters being (of course) Lady Jane Grey, Gifford (Call him G), and King Edward. There are several other characters that deserve mentioning because their roles in this book are what makes this book the amazing book that it is. These characters are Bess, Mary, Gran and Gracie and each of these characters are memorable and some are even ....absolutely...unmistakably ....hilarious.
Lady Jane is my favorite character in the entire book simply because she loves...no she is OBSESSED with books and I simply adore that. She is a book lover and expresses her love for books all throughout the book and I found myself smiling every time she mentioned her love of books because it was like she was describing me and that this book was written JUST FOR ME!!!!
"Jane, as we mentioned earlier, loved books. There was nothing she relished more than the weight of a hefty tome in her hands, each beautiful volume of knowledge as rare and wonderful and fascinating a the last. She delighted in the smell of the ink, the rough feel of the paper between her fingers, the rustle of sweet pages, the shapes of the letters before her eyes. And most of all, she loved the way that books could transport her from her otherwise mundane and stifling life and offer the experiences of a hundred other lives. Through books she could see the world."
Probably one of my favorite things about this book is that nothing is as it seems.....and I mean NOTHING.... The story and the characters all have secrets and I was fascinated at each turn of the page when a new secret was revealed. When I say I was completely mesmerized with this story....I WAS COMPLETELY MESMERIZED. The story was so engaging and the reader will find themselves completely absorbed in every aspect of this thrilling story. The entire story was so full of humor and so entertaining and then at the perfect moment the story would turn serious and fascinating. My Lady Jane is ....literally....perfectly written.
The fantasy aspect that the authors intertwined into this historical fiction only added to the book to make it phenomenal. I'm trying not to give away any secrets that will spoil the book for anyone but let me say that the "Edians" or "animals" that are introduced in the story are incredible and make the story what it is. I am a huge fan of animals and was cheering for each and every one of them!!
Another favorite part of My Lady Jane was where the authors would add commentary and would "explain what was going on"..I seriously loved this and the humor that it added to the story. I felt like the authors were reading my mind. I mean...can you tell that I absolutely LOVED this book??????
My Lady Jane is full of laugh out loud humor, fascinating historical fiction, thrilling magic, swoon-worthy romances and characters that will pull at your heart and bring you into the story so much that you will be turning pages late into the night and you will not want this book to end!!
KUDOS to all of you Lady Janies!!!! WOW! What a book!!!
**The quotes from this book have been taken from an Advanced Reading Copy and are subject to change when the final book is printed. Please refer to the final, finished copy for exact quotes!**
**I want to say Thank You to Harper Teen for the opportunity to review this book!!**