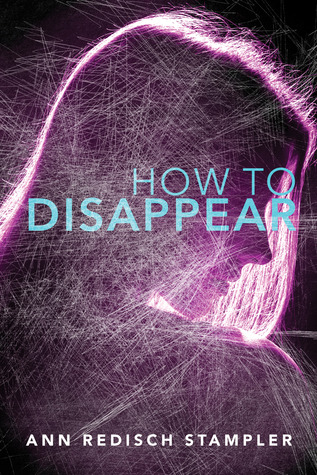 Title: HOW TO DISAPPEAR
Author: Ann Redisch Stampler
Release date: June 14, 2016
Publisher: Simon Pulse
Pages: 416
Formats: Hardcover, eBook

This electric cross-country thriller follows the game of cat and mouse between a girl on the run from a murder she witnessed—or committed?—and the boy who's sent to kill her.




Nicolette Holland is the girl everyone likes. Up for adventure. Loyal to a fault. And she's pretty sure she can get away with anything…until a young woman is brutally murdered in the woods near Nicolette's house. Which is why she has to disappear.




Jack Manx has always been the stand-up guy with the killer last name. But straight A's and athletic trophies can't make people forget that his father was a hit man and his brother is doing time for armed assault. Just when Jack is about to graduate from his Las Vegas high school and head east for college, his brother pulls him into the family business with inescapable instructions: find this ruthless Nicolette Holland and get rid of her. Or else Jack and everyone he loves will pay the price.




As Nicolette and Jack race to outsmart each other, tensions—and attractions—run high. Told in alternating voices, this tightly plotted mystery and tense love story challenges our assumptions about right and wrong, guilt and innocence, truth and lies.
Ann Redisch Stampler is the author of the young adult novels Afterparty and Where It Began as well as half a dozen picture books. Her work has garnered an Aesop accolade, the National Jewish Book Award, Sydney Taylor honors, the Middle East Book Award, and Bank Street Best Books of the Year mentions. How to Disappear (Simon Pulse, 2016), her first young adult thriller, will be released in June. Ann lives in Los Angeles, California, with her husband Rick.
WEBSITE | BLOG | TWITTER | FACEBOOK | PINTEREST | GOODREADS




1. What gave you the inspiration to write this book?
It was a write the book you want to read thing: I've always been drawn to dark, twisty thrillers, and to stories about people on the run. So when the idea of telling this story using two narrators neither of whom knew (or was telling) the whole truth occurred to me, How to Disappear fell into place.
2. Who is your favorite character in the book?
I love both of the main characters, Jack and Nicolette, although neither one is what you could call a perfect person. I love how resourceful and ultimately how ruthless she is in protecting the things she cares about – even when she does this completely without regard to what she might previously have thought of as morally correct. And I love the way Jack struggles to figure things out and to maintain some semblance of control even when he's plunged into (or creates) the most difficult situations.
3. Which came first, the title or the novel?
The title arrived when I had the kernel of the story. And then I had to finish the story because I was crazy about the title.
4. What scene in the book are you most proud of, and why?
It's almost impossible to answer this question without introducing a spoiler. How do I explain this? Okay, I'm proudest of a couple of scenes that are described from both Nicolette and Jack's points of view, so the reader gains a clearer sense of who they are, and how honest they're being (or not being) with each other and even with themselves by seeing the ways they interpret exactly the same thing.
5. Thinking way back to the beginning, what's the most important thing you've learned as a writer from then to now?
I was told that you have to be completely taken with the process of writing and rewriting the book, as opposed to the idea of filling in "author" on the line for your profession. For me, at least, as intrigued as I was by the notion of being a writer and walking past my books on a shelf at the library, the only thing that makes this career work is that the thing I want to be doing for many hours a day is putting words on a page and revising the page. I'm a pretty slow writer, and if I didn't like sitting there making things up at a snail-like pace, the author thing wouldn't be viable.
7. What new release book are you looking most forward to in 2016?
My daughter Laura's first young adult novel, Little Black Dresses, Little White Lies, a romantic comedy with so much heart is coming out in July. And even though I've read any number of versions of the wonderful thing, I can't wait to celebrate its release.
8. What's up next for you?
I found myself writing another thriller based on real events so horrifying that for comic relief, I started working on something very fluffy. So we shall see: The cotton candy or the dagger?
ONE (1) winner will receive a $50.00 gift certificate for Booklocker + signed HOW TO DISAPPEAR bookmarks.