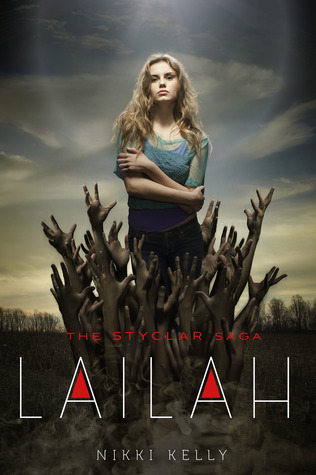 Lailah
(The Styclar Saga #1)
by
Nikki Kelly
Publisher: Feiwel and Friends
Release Date: October 7th 2014
The girl knows she's different. She doesn't age. She has no family. She has visions of a past life, but no clear clues as to what she is, or where she comes from. But there is a face in her dreams – a light that breaks through the darkness. She knows his name is Gabriel.
On her way home from work, the girl encounters an injured stranger whose name is Jonah. Soon, she will understand that Jonah belongs to a generation of Vampires that serve even darker forces. Jonah and the few like him, are fighting with help from an unlikely ally – a rogue Angel, named Gabriel.
In the crossfire between good and evil, love and hate, and life and death, the girl learns her name: Lailah. But when the lines between black and white begin to blur, where in the spectrum will she find her place? And with whom?
Gabriel and Jonah both want to protect her. But Lailah will have to fight her own battle to find out who she truly is.
In the crossfire between good and evil, love and hate, and life and death, the girl learns her name: Lailah. But when the lines between black and white begin to blur, where in the spectrum will she find her place? And with whom?
I am not even sure where to start....This book was so amazing on so many levels. I have not really enjoyed a vampire novel since the Twilight series and have really been wanting to read one so when I saw this book on Goodreads...I thought I would give it a try...and I am beyond glad that I did!!!! Lailah surpassed my expectations and was a phenomenal book.
Lailah knows she is different. She feels different and has visions of a past life. She has no family and no idea where she comes from. She lives day to day without knowing what to expect next. While going home one night she encounters a injured stranger named Jonah and little does she know but this will be the beginning of her destiny. Lailah helps Jonah and treats his wounds and while he is at her home..."others" like him track him down and attack her home.
Lailah and Jonah are rescued by a rogue group of people who help them escape.
"I learned something very useful in the seconds that followed--a lesson once taught to me by Frederic, the first Vampire I'd ever encountered. It had slipped through the net in my panic.
Never turn your back on a murderous Vampire."
At this point we meet Gabriel. Gabriel is an angel who has devoted his life to fight the evil vampires of the world and he has joined forces with Jonah (another rogue vampire) and his companions to fight the bigger evil that threatens the world. Lailah somehow knows that she is supposed to be a part of this war and she feels as though Gabriel has answers and is just not telling her. Lailah decides to join the group and they move to a secluded house in the wilderness while they figure out what steps to take next.
Gabriel is by far my favorite character in the book. I am 100% Team Gabriel!!! He is portrayed as a dark, handsome and very "built" young man. My favorite characteristic of him is the way he is so protective over Lailah and his team. There are several hints throughout the book that make me think there is something more to Gabriel and his relationship with Lailah.....and I can't wait to find out the truth.
Lailah is torn between Gabriel and Jonah throughout the book. They both want to protect her and she feels drawn to both of them but she can only be with one......
Jonah is a vampire but still has feelings for Lailah...He doesn't try to hide his affections even though he knows they can most likely never be together. I found myself feeling sorry for him and wanting him to be happy but I am still team Gabriel so....of course I want him and Lailah together.
This book is so full of crippling secrets that will just completely take you by shock. I found myself just staring at the book in amazement. Every chapter there is something new and fascinating happening. I loved all the characters in the book. They all had something special about them that made you feel as though you were right there with them. This book is so full of action and suspense with the perfect amount of drama and romance mixed in. Lailah is a compelling, emotional, and fascinating read that you will stay up all night reading just to see what happens next....Nikki Kelly has risen to the top of my favorite authors list and I cannot wait to read future books from her. Lailah is easily one of my favorite books this year. If you love a good vampire story with plenty of suspense, drama, and romance then please check this book out!! I promise you that you will not be disappointed!! It...IS.....AMAZING!!!!!
"Lailah," he repeated. "I would never let inevitability dictate your happiness. Wherever your path is meant to lead, you deserve and you should command the choice to decide. In your decisions, inevitability doesn't rule you."
I was born and raised only minutes away from the chocolately scent of Cadbury World in Birmingham, England. So it will probably come as no surprise that when I'm not dreaming in Vampires & Angels, I dream in chocolate! For the past ten years I have lived in West London with my hubby and two dogs, Alfie - the Pug & Goose - the Chihuahua.
LAILAH is my debut novel, and first launched in serial form to wattpad, a readers & writers community. Within just 6months, LAILAH had over a million reads and thousands of comments and votes.
Since then, The Styclar Saga has gone on to pick up a traditional deal with Feiwel & Friends, and LAILAH, the first book in the series is due for release on October 7th 2014.
These days I spend my time balancing my amazing job of writing fantasy fiction, with my other, very important role of Chocolate Connoisseur. I like to multitask and do the two together. It makes me happy.
Win (1) hardback of Lailah by Nikki Kelly (US Only)