Hardcover: 464 pages
Expected publication: November 4th 2014
Publisher: HMH Books for Young Readers
Author: Robin LaFevers
ARC Provided by Publisher in exchange for an Honest Review
Annith has watched her gifted sisters at the convent come and go, carrying out their dark dealings in the name of St. Mortain, patiently awaiting her own turn to serve Death. But her worst fears are realized when she discovers she is being groomed by the abbess as a Seeress, to be forever sequestered in the rock and stone womb of the convent. Feeling sorely betrayed, Annith decides to strike out on her own.

She has spent her whole life training to be an assassin. Just because the convent has changed its mind doesn't mean she has...
Robin LaFevers was raised on a steady diet of fairy tales, Bulfinch's mythology, and 19th century poetry. It is not surprising she grew up to be a hopeless romantic.




Though she has never trained as an assassin or joined a convent, she did attend Catholic school for three years, which instilled in her a deep fascination with sacred rituals and the concept of the Divine. She has been on a search for answers to life's mysteries ever since.




While many of those answers still elude her, she was lucky enough to find her one true love, and is living happily ever after with him in the foothills of southern California.




In addition to writing about teen assassin nuns in medieval Brittany, she writes books for middle grade readers, including the Theodosia books and the Nathaniel Fludd, Beastologist series.
Because Love Is Stronger Than Death
Mortal Heart is the last book in one of my most favorite series ever....His Fair Assassins. This series is absolutely phenomenal. Each of the books in this series are beautifully written stories with the perfect mix of historical fiction, romance, and suspense.
The second book in the series, Dark Triumph was just so incredible.... its one of those books where after you read the last page...you just sit there and stare at the last page willing there to be more....trying your best to make more chapters appear. So I absolutely could not wait to get my hands on Mortal Heart. I loved this series so much and even though I DO NOT want it to end....I still couldn't wait to dig back into this amazing story. We have read about Annith throughout the first two books in the series so we know her background.....but we really have no clue about her "real" story.
Annith has previously been portrayed as the strongest trained assassin for St. Mortain but extremely quiet and timid. Annith's abilities are all based on what she has been taught which is the opposite of Ismae and Sybella. Both Ismae and Sybella were born with their special gifts from Mortain and Annith cannot understand why her special gifts have not been shown to her.
Annith waits patiently day by day to be assigned to a mission for St Mortain. She is eager to be out in the field like her fellow sisters. Annith accidentally overhears the Abbess expressing her wishes to make Annith the next seeress for St Mortain. This would mean that Annith would live in the convent for the rest of her life and never leave...she would not go on missions nor have any contact with the outside world. Annith would rather run away and be exiled than have to live in solitude at the convent the rest of her life.
"If it was not, then I am well and truly suited to being the seeress And as much as I love Death, I don not think that I love Him enough to entomb myself in the convent before I have even lived."
Annith decides to run away from the convent and search for Ismae, Sybella and the Duchess. Annith feels as thought they can help her fight for her cause and help her show the Abbess that she should be an assassin instead of a seeress.
It's hard to talk about Annith's story and this final book without giving away any key details or spoilers. Annith's journey to find the Duchess and her convent sisters leads her to meet so many new characters and backgrounds. Balthazar and his group of men are especially phenomenal. I love Balthazar's character and his relationship with Annith. He brings out so much in Annith that she has kept hidden for so long.
"I step fully into his arms, and place my head against his chest, his words wrapping themselves around me. He does not see me as broken or flawed, but whole. And in that moment, seen by him that way, I realize I am whole. My brokenness, my muddied birth, my scars--none of that defines me, it is all encompassed within the entirety of who I am, just as Death encompasses sorrow and joy, justice and mortals, made up of many pieces, some of them broken, some of them scarred, but none of them the sum and total of who we are."
There are so many twists that I never saw coming and when I closed this book.....I just sat in awe at what an amazing writer Robin LaFevers is. She portrays each character with so much emotion that no matter how small their part is....you still find yourself truly caring about each and every one.....
If you have not started this series then you are truly missing out on a incredible, amazing series that will stay with you forever. Each book is so deeply emotional and connects the characters in such an intricate way. The world and character building in this series is just untouchable....no one can compare to the tale that Robin LaFevers weaves......Phenomenal......just phenomenal.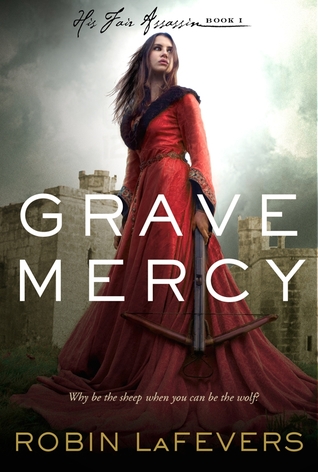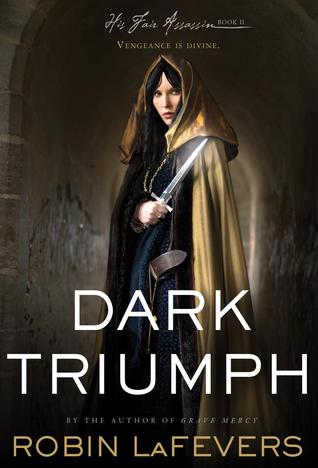 **The quotes from this book have been taken from an Advanced Reading Copy and are subject to change when the final book is printed. Please refer to the final, finished copy for exact quotes!**
**I want to say Thank You to Houghton Mifflin Harcourt for the opportunity to review this book!!**