Penguin Teen is having a very fun Twitter sweepstakes coming up called #TwitterGhostStory, which is a week-long event (taking place 10/26-10/31) in which you can write a spooky story in 140 characters or less using #TwitterGhostStory to enter for the chance to win a prize pack of the featured titles. A lot of Penguin authors will be participating!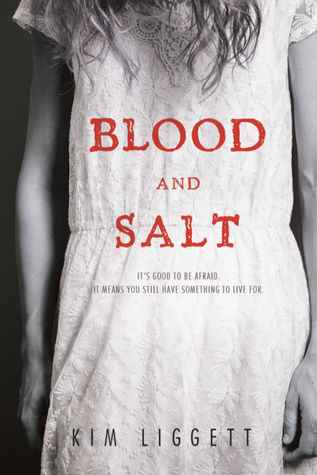 Hardcover, 352 pages
Expected publication: September 22nd 2015 by G.P. Putnam's Sons Books for Young
Romeo and Juliet meets Children of the Corn in this one-of-a-kind romantic horror.


"When you fall in love, you will carve out your heart and throw it into the deepest ocean. You will be all in—blood and salt."


These are the last words Ash Larkin hears before her mother returns to the spiritual commune she escaped long ago. But when Ash follows her to Quivira, Kansas, something sinister and ancient waits among the rustling cornstalks of this village lost to time.




Ash is plagued by memories of her ancestor, Katia, which harken back to the town's history of unrequited love and murder, alchemy and immortality. Charming traditions soon give way to a string of gruesome deaths, and Ash feels drawn to Dane, a forbidden boy with secrets of his own.




As the community prepares for a ceremony five hundred years in the making, Ash must fight not only to save her mother, but herself—and discover the truth about Quivira before it's too late. Before she's all in—blood and salt.
Pre-Order Links
At sixteen, Kim Liggett left her rural midwestern town for New York City to pursue a career in both music and acting. While attending the American Academy of Dramatic Arts, Kim sang backup for some of the biggest rock bands in the 80′s.


After settling down to have a family, she became an entrepreneur, creating a children's art education program and a travel company specializing in tours for musicians.

She's married to jazz musician Ken Peplowski, has two beautiful teens, and a very neurotic dog that drags her through Riverside Park everyday on the Upper West Side of Manhattan.
"When you fall in love, you will carve out your heart and throw it into the deepest ocean.
You will be all in--
blood and salt."
So...Is it possible to scream at the top of my lungs about how amazing this book is?? UMMM YEAH!!!!! I mean SERIOUSLY...Blood & Salt...where have you been all my life??? I am completely and utterly obsessed, amazed, in awe, its genius, its beautiful...its haunting........i mean...there are so many words to describe this BREATH-TAKING book. I had heard from so many people that it completely rocked and so the anticipation was about to drive me crazy....and then........it happened........ I opened my mail.......AND THERE IT WAS...the most beautiful piece of young adult writing that I have read in a long time......AWE...absolute AWE....
"I loved you before you were even a complete thought in my mind. You gave me a reason to live, to fight, to remember that good still remained in this world."
Blood and Salt is the PERFECT young adult book for this season!! One of the first things that grabbed my attention when I saw this book was the amazingly creepy yet hauntingly beautiful cover. I mean how gorgeous is the black and white artwork of the young girl in an old style dress with the title of Blood and Salt in RED.....Whoever came up with the artwork for this cover....I...AM...OBSESSED.
The next thing that grabbed my attention was a section in the synopsis of this book....."Romeo and Juliet meets Children of the Corn in this one-of-a-kind romantic horror." I mean how can you read that and then not instantly want to devour this book??
and so it began...
I opened to the first page and my journey into Blood & Salt began....
Blood & Salt is the story of Ash Larkin and her journey to find out the truth about her family's heritage. Ash and her twin brother, Rhys have to leave their home in New York City to travel to Kansas to save their mother after they arrive home and discover that she has left them to go back to her hometown called Quivira. Ash's mother left them in order to save them from an curse that has followed them their whole life. Ash and Rhys decide to follow their mother and save their family and heritage once and for all.
From the very first chapter of this book we are introduced to memorable and a few swoon-worthy characters. I loved Beth and her quirky ways and I always felt like there was something mysterious about her and couldn't wait to discover what it was.... AND THEN....we meet Dane. AHHH...Usually I don't like insta-love...but in this case...I COMPLETLY LOVED IT!!! Dane was just amazing..he was mysterious, gorgeous, and secretive and the connection that is described between Ash and Dane just makes you SWOON!!! Ah...FORBIDDEN LOVE ROCKS!!
There were so many feels...so many twists...so many SECRETS!! I could literally write about this book all day long...BUT...then it would take away from amazing chills you will get when you discover all the truths to Blood & Salt. This book has it all...romance, mystery, horror, and TONS of suspense...Each chapter was a new adventure and I was captivated throughout the entire book up until the very last page...I want more..I need more...NOW!!!
"The separation you're feeling...sometimes people distance themselves from things they know they'll have to say good-bye to one day."
Kim Liggett...you rocked my face off with this book. Your captivating writing had me devouring each page and I literally could not put the book down. I found myself reading till 2 am one morning and it still wasn't enough. I will forever be completely OBSESSED with you and will stalk and beg for ALL of your future books.... (and i literally CANNOT WAIT to get my hands on Blood and Salt #2...although I have no idea how you are going to fit more awesomeness into this story...I....MEAN.....SERIOUSLY....)