Seventeen years ago, an eclipse cloaked the kingdom of Relhok in perpetual darkness. In the chaos, an evil chancellor murdered the king and queen and seized their throne. Luna, Relhok's lost princess, has been hiding in a tower ever since. Luna's survival depends on the world believing she is dead.

But that doesn't stop Luna from wanting more. When she meets Fowler, a mysterious archer braving the woods outside her tower, Luna is drawn to him despite the risk. When the tower is attacked, Luna and Fowler escape together. But this world of darkness is more treacherous than Luna ever realized.

With every threat stacked against them, Luna and Fowler find solace in each other. But with secrets still unspoken between them, falling in love might be their most dangerous journey yet.

With lush writing and a star–crossed romance, Reign of Shadows is Sophie Jordan at her best.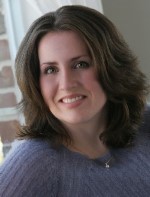 Sophie Jordan took her adolescent daydreaming one step further and penned her first historical romance in the back of her high school Spanish class. This passion led her to pursue a degree in English and History.


A brief stint in law school taught her that case law was not nearly as interesting as literature - teaching English seemed the natural recourse. After several years teaching high school students to love Antigone, Sophie resigned with the birth of her first child and decided it was time to pursue the long-held dream of writing.




In less than three years, her first book, Once Upon A Wedding Night, a 2006 Romantic Times Reviewers' Choice Nominee for Best First Historical, hit book shelves. Her second novel, Too Wicked To Tame, released in March 2007 with a bang, landing on the USA Today Bestseller's List.
I mean...that cover..SERIOUSLY?? WOW....Of course the first thing that grabbed my attention about this book is the amazing, breathtakingly beautiful cover. I love everything about it... the rich, bold colors just grab the readers attention.
Reign of Shadows is a young adult fantasy with a swoon-worthy romance intertwined into the story. Luna, the princess of Relhok, was saved seventeen years ago when an eclipse caused the entire kingdom to be covered in darkness and an evil chancellor used this as an opportunity to kill Luna's parents, the king and queen of Relhok, and take over the kingdom. Luna was rescued and hidden away in a tower far away from the her kingdom in hopes of surviving and eventually regaining her kingdom.
The eclipse that occurred was permanent and caused "flesh-hungry" creatures that live in the dark to come out and take over the world. Luna is locked away in the tower and can only venture out for short amounts of time because of the creatures and other things that live in the dark. It is one of those times when she is outside the tower walls that she runs into a young man named Fowler... and this is where the story truly begins.....
The dark, creepy world building really fascinated me and the idea that their whole world was cloaked in darkness was very intriguing. I loved learning how the characters survived and have learned to adapt to this new, dark world.
I absolutely loved Luna and Fowler and their love story. Their love blossomed beautifully and really gave the reader time to see their relationship begin.
"Whatever it took, whatever words I had to say, I would make her understand that she didn't have to do this. That we could be together in Allu. We would.
"Let her go," Mirelya murmured as though she could read my thoughts. Maybe the old woman could.
I shook my head. "Never."
"She's trying to do the right thing. Let her go."
Swinging my pack over my shoulder, I passed her and headed for the door, calling back, "She can try all she likes to do the right thing. But so will I."
When I first started reading this book I was not expecting the intense, brutal scenes that occurred...I was expecting a fantasy story but nothing like this...and I really enjoyed it. The harsh reality and ruthless fight scenes really brought out the emotions and helped connect the characters. I am a huge fan of survival stories and this book is ALL about survival and as soon as I figured that out...I was completely engrossed in the story. The beginning was a little slow for me and was really just introducing the characters and the world...but once the survival aspect was introduced....it was a complete "can't put down...turning pages late into the night" kinda book!!!
The only problem I had with this book was the way it ended....The last chapters were so fast-paced and intense and I couldn't wait to read the next page....and then WHAM....major cliff-hanger....and I am NOT a fan of cliff-hangers. I am now absolutely dying to get my hands on the sequel and have no idea how I will wait so long.......
**The quotes from this book have been taken from an Advanced Reading Copy and are subject to change when the final book is printed. Please refer to the final, finished copy for exact quotes!**
**I want to say Thank You to Harper Teen for the opportunity to review this book!!**