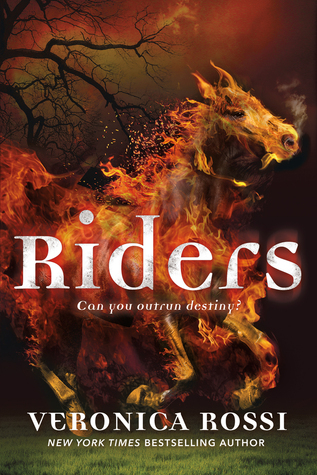 Hardcover, 384 pages
Expected publication: February 16th 2016 by Tor Teen
For eighteen-year-old Gideon Blake, nothing but death can keep him from achieving his goal of becoming a U.S. Army Ranger. As it turns out, it does.




Recovering from the accident that most definitely killed him, Gideon finds himself with strange new powers and a bizarre cuff he can't remove. His death has brought to life his real destiny. He has become War, one of the legendary four horsemen of the apocalypse.




Over the coming weeks, he and the other horsemen--Conquest, Famine, and Death--are brought together by a beautiful but frustratingly secretive girl to help save humanity from an ancient evil on the emergence.




They fail.




Now--bound, bloodied, and drugged--Gideon is interrogated by the authorities about his role in a battle that has become an international incident. If he stands any chance of saving his friends and the girl he's fallen for--not to mention all of humankind--he needs to convince the skeptical government officials the world is in imminent danger.




But will anyone believe him?
Veronica Rossi is a best selling author of fiction for young adults. Her debut novel, UNDER THE NEVER SKY, was the first in a post-apocalyptic trilogy. Released in January 2012, it was deemed one of the Best Books of Year by School Library Journal. The series appeared in the NY Times and USA Today best seller lists and was published in over 25 foreign markets.




Her second series for young adults will begin with RIDERS (publishing February 16, 2016), the story of four modern day teens who become incarnations of the four horsemen of the apocalypse, and the prophetic girl who brings them together.




Veronica completed her undergraduate studies at UCLA and then went on to study fine art at the California College of the Arts in San Francisco. She is a lifelong reader and artist. Born in Rio de Janeiro, Brazil, she has lived in Mexico, Venezuela, and all over the United States, to finally settle in Northern California with her husband and two sons.




When not writing, Veronica enjoys reading (it's worth repeating), painting, and running. She does NOT like anything involving numbers, the addition of them, subtraction of them, you name it. They terrify her. Her obsessions generally lead to fictional works. Currently, she's delving deep in to Ancient Greece.




This. Is. Spartaaaa!




What else? This is getting more fun, isn't it?




She–okay, I–am a huge fan of the SF Giants and the Golden State Warriors. I know, I know. Book types and sporty types shouldn't be one in the same, but what can I say? I'm breaking the mold. Continuing. I have an irrational love of elephants. They make me cry, but it's the best kind of cry. On other end of the spectrum, I abhor the shrill squeak styrofoam makes when it's coming out of a box. Just typing that sentence made me want to scream. Needless to say, Christmas is great, but also really tough on me.




It's probably time to wrap this up. If you're here, it's likely because you've read one of my books, or because you're thinking about reading one of my books. Either way, thank you. Writing fulfills me like nothing else and I feel exceedingly fortunate to also call it my profession.


Speaking of which, for professional inquiries, please contact Josh Adams at Adams Literary.


Welcome, and thank you.
Meet Daryn Martin of RIDERS
Daryn Martin is the lone girl in the RIDERS posse, but she more than holds her own. Daryn is a "Seeker" – she's a conduit for visions that send her all over the world to complete tasks that a diverse, large and small, but all helpful, all in the name of good. Her quiet, almost brooding exterior bellies a girl who's smart, thoughtful, and determined to carry out the missions she's entrusted with. Whether it be helping an elderly woman across the street, or finding a lost hiker in the wilderness and shepherding them back to safety, Daryn does it all. Capably. Dependably. With an air of steadiness. Only one thing really rattles Daryn. And that "thing" is Gideon. Wink-wink. You can read between the lines there.
Daryn is the "glue" that holds the team together. She's not the biggest talker of the bunch but when she does talk, everyone listens up.
I have to also tip my hat to Daryn for being a writer. You'll never find her without her ragged, ink-filled notebook. Gotta love that!
I can't wait for you to meet Daryn in RIDERS! I love this mysterious, tough, wise girl. And I really hope you will, too!
"★ Intense enough for reluctant readers yet sophisticated enough to entice those who enjoy books with a military background and lots of action."—School Library Journal, Starred Review
"Tough guy Gideon is a solid, likable narrator…The straight-shooting narration and the highly intriguing concept will draw plenty of readers."-Booklist