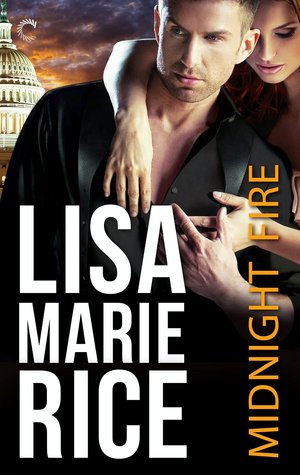 Summer Redding thought the blindingly handsome jock who'd loved and left her years ago had died in the Washington Massacre. She grieved for her lost golden boy as the rest of the country mourned their dead—until she comes home to find a very alive Jack Delvaux waiting for her with a devastating secret that turns her life upside down.




No longer the carefree man he was in his youth, this Jack is dark, hard and dangerous; a fifteen-year veteran of the CIA hungry for answers…and hungry for her. The rich, good-looking charmer who broke her heart once before would have been easy to resist, but this man, this powerful man? Summer needs him, and he knows it.




When Jack's mission uncovers evidence of government involvement in the Massacre—and plans for another attack—he's primed for revenge. But he has more than vengeance to live for now, and when Summer's life is threatened, it's nearly Jack's undoing. Someone taking shots at his woman? That's a dead man walking.
Find Midnight Fire:
The Men of Midnight Series:
Midnight Secrets (Men of Midnight, #3)


Summer had no problems imagining someone whacking Blake—but who?
In her head a very long imaginary line formed of people who'd like to off him.
Her Aunt Vanessa, for one. Aunt Vanessa had been briefly married to Blake, so there was a connection to Summer, though not a blood one. Sharing DNA with Hector Blake…eww.
When her parents had died she'd landed on Aunt Vanessa's doorstep for two months, waiting to go to boarding school. Aunt Vanessa and Hector had been going through a vicious separation that would lead to a hotly contested divorce.
Those two months would have been unbearable if it hadn't been for the Delvauxes who stopped by often and invited her over often. She ate a lot of meals at their house and would probably have gone hungry otherwise. No one at the Glades ate in the house and they didn't care whether she was eating or not.
Isabel Delvaux had been two years older than her and had been kind and fun. And Jack—when Summer first saw him, her jaw had dropped, the first time that had happened to her in all her twelve years. She was sure he jump started her puberty.
He'd been fifteen and drop dead gorgeous. From his sun bleached tousled blond head down to his perfect feet which she spaced out on when they spent the afternoons at the backyard pool, he was beautiful boyhood incarnate.
She'd lost sight of Isabel but had met Jack again her first week at Harvard.
He'd done a double take when she'd shyly said hello to the dazzling senior, even more gorgeous than before. A handsome man instead of a beautiful boy and oh, just looking at him was such a pleasure. He'd been really nice to her and then he'd bedded her and it had been as if her life were finally coming together. But Jack was like a sun god, too magnificent to stay with a lonely freshman. He'd seduced Summer, her dorm roommate and two other girls on the floor in one month and then he'd disappeared.
He'd been her first and her last for a long, long time.
He'd given her blinding pleasure, she'd so foolishly thought it was true love, and he shattered her heart. All in a few days.
And then he vanished into smoke.
Lisa Marie Rice is eternally 30 years old and will never age. She is tall and willowy and beautiful. Men drop at her feet like ripe pears. She has won every major book prize in the world. She is a black belt with advanced degrees in archaeology, nuclear physics, and Tibetan literature. She is a concert pianist. Did I mention her Nobel Prize? Of course, Lisa Marie Rice is a virtual woman and exists only at the keyboard when writing erotic romance. She disappears when the monitor winks off.
About Lisa Marie Rice:
Wow!!! Probably should not have been reading this on the anniversary of 9/11. I already question half the "news" and all the articles I read on social media. This book made me realize how scary our world could actually be!
Behind the plot of high ranking government leaders being corrupt the reader finds a pretty amazing love story. Summer never really had a family and Jack grew up in a loving home with great parents. When Summer and Jacks paths crossed in college she quickly fell in love with her childhood friend. Jack, however, didn't let himself fall in love and left Summer with a broken heart.
Now they find themselves together after 15 years have past....and now they are fighting for their lives!!! Can Summer trust Jack now?! Will they be able to find the proof they need to survive?!