This world is trying to kill Lily Proctor. Her life-threatening allergies keep her from enjoying experiences that others in her hometown of Salem take for granted, which is why she is determined to enjoy her first high school party with her best friend and longtime crush, Tristan. But after a humiliating incident in front of half her graduating class, Lily wishes she could just disappear.
Suddenly, Lily is in a different Salem—one overrun with horrifying creatures and ruled by powerful women called Crucibles. Strongest and cruelest of them all is Lillian . . . Lily's other self in this alternate universe.
What makes Lily weak at home is what makes her extraordinary in New Salem. In this confusing world, Lily is torn between responsibilities she can't hope to shoulder alone and a love she never expected.
BUY LINKS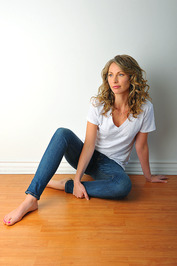 JOSEPHINE ANGELINI is a graduate of New York University's Tisch School of the Arts in theater, with a focus on the classics. Originally from Massachusetts, she now lives in Los Angeles with her screenwriter husband and three shelter cats. Her debut series, Starcrossed, Dreamless, and Goddess, (Harper Teen) are all international bestsellers and have garnered the praise of various major publications, including the LA Times, and have twice won the Reader's Choice Awards in Germany. Her next series, Trial by Fire, Book One of the WorldWalker Trilogy (Feiwel and Friends, Macmillan) will be out in the US on September 2nd.
"Love burns.
Worlds collide.
Magic reigns."
I had heard sooooo many people raving about this book so I had to get my hands on it. From the moment I opened the book and read the first chapter....I was completely hooked. Josephine Angelini's writing style is just breath-taking and phenomenal. She writes her characters in a way that it feels like you are in the book with them.
The main character, Lily Proctor, is a young girl who has life-threatening allergies and could die at any moment. Lily's character was so easy to like. She is witty, smart, and down to earth. I immediately found myself cheering for her. Her only wish in life is to live like a normal teenager. She decides to try and attend a high school party and while there she has an allergy attack and almost dies. Once she is home and feeling better she imagines herself moving away....far away from everything. All of a sudden she gets dizzy and blacks out....
"Her skin pricking with a preternatural sense of wrongness, Lily turned and looked behind her.
She was still in Salem. The shape of the shoreline, as familiar to her as the whirls of her own thumbprint, told her that.
She just wasn't in her Salem anymore."
Lily wakes up in a totally different place and she will discover that she is actually in a totally different world. She has been transported to an alternate universe called Salem. Lily discovers that her evil "other self" named Lillian is the person who has brought her to this world in order to train Lily and use her to take over Salem.
This new world is fascinating and dangerous at the same time. Lily experiences magic for the first time and realizes that in this world she is very important and could be the difference in whether good or evil wins. In this new world Lily meets Rowan and Tristan who are both on the side of good and are trying to defeat the evil Lillian. Lily and Rowan begin to develop a breath-taking romance and I just love them together.
"A world of tenderness wrapped around Lily and filled her up, as if the air had turned into Rowan and she was standing in him and breathing him in."
There are so many parts of this book that I never saw coming!! I knew there would be plenty of magic and possibly romance but I never imagined that horror would also be included.....and I am a huge horror fan so when the horrifying, scary creatures showed up in the story I was just completely blown away!!! There are some parts of the story that are actually gruesome and took my totally by surprise and I loved every aspect of it!!! I mean, this book is just really awesome. Trial by Fire has everything from intense magic scenes to horrific fight scenes. Fans of young adult, suspense, romance, fantasy, and horror will absolutely LOVE this book.
There were also so many questions that I had that did not get answered....Which of course makes me about to DIE to get my hands on the sequel...Well played Josephine Angelini...well-played.....Readers will devour this "unputdownable" book....and be left craving for more!! Josephine Angelini just moved to the top of my Favorite Authors list....Wow.....No other words but WOW.....
**The quotes from this book have been taken from an Advanced Reading Copy and are subject to change when the final book is printed. Please refer to the final, finished copy for exact quotes!**
**I want to say Thank You to Feiwel & Friends/MacMillian for the opportunity to review this book!!**