OK so I just have to say that I have been dying for a good vampire novel so when I saw this book on goodreads I immediately knew I had to have it....and let me tell you....THIS IS ONE OF MY FAVORITE Vampire novels EVER!!! Everything about this incredible book is just awesome. I loved it from the first page to the very last page and now I am literally DYING for the sequel...Not to mention the author, Nikki Kelly, absolutely ROCKS! She is so incredible about interacting with her fans and I just love that in an author!! It just makes me want to share her book more!!!! So please if you have not added this to your TBR list....WHAT ARE YOU WAITING FOR?? ADD IT NOW!!!!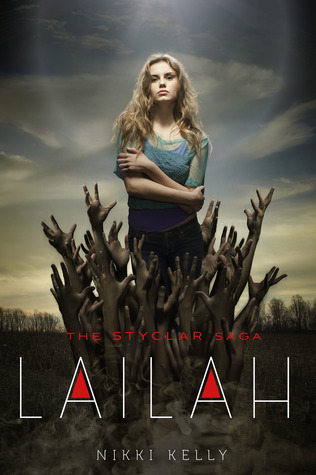 Hardback, 352 pages
Expected publication: October 7th 2014 by Feiwel and Friends
The girl knows she's different. She doesn't age. She has no family. She has visions of a past life, but no clear clues as to what she is, or where she comes from. But there is a face in her dreams – a light that breaks through the darkness. She knows his name is Gabriel.




On her way home from work, the girl encounters an injured stranger whose name is Jonah. Soon, she will understand that Jonah belongs to a generation of Vampires that serve even darker forces. Jonah and the few like him, are fighting with help from an unlikely ally – a rogue Angel, named Gabriel.




In the crossfire between good and evil, love and hate, and life and death, the girl learns her name: Lailah. But when the lines between black and white begin to blur, where in the spectrum will she find her place? And with whom?




Gabriel and Jonah both want to protect her. But Lailah will have to fight her own battle to find out who she truly is.
I was born and raised only minutes away from the chocolately scent of Cadbury World in Birmingham, England. So it will probably come as no surprise that when I'm not dreaming in Vampires & Angels, I dream in chocolate! For the past ten years I have lived in West London with my hubby and two dogs, Alfie - the Pug & Goose - the Chihuahua.




LAILAH is my debut novel, and first launched in serial form to wattpad, a readers & writers community. Within just 6months, LAILAH had over a million reads and thousands of comments and votes.

Since then, The Styclar Saga has gone on to pick up a traditional deal with Feiwel & Friends, and LAILAH, the first book in the series is due for release on October 7th 2014.

These days I spend my time balancing my amazing job of writing fantasy fiction, with my other, very important role of Chocolate Connoisseur. I like to multitask and do the two together. It makes me happy.
What gave her the inspiration for the book? Or anything she would like to tell the followers!! :):)
The answer to where I discovered the desire and inspiration to write Lailah is three-fold, and makes up what I am going to choose to call 'the triangle of conception'!
Fold One: I am a self-confessed Whovian, a Twihard, a fan of True Blood and I love all things Angel.
Fold Two: The best piece of writing advice I ever received was that you should 'write what you love, and write what you know'.
Combine Fold One and Two, and you have the beginnings of a triangle pointing to YA Fantasy!
Fold Three (and the crucial element – the final Fold to create the base line for the triangle of conception): The spark!
The spark for what became Lailah emerged from a dream I had one night. Now, to be fair, I had slightly overdosed on vampire-themed TV that week, so perhaps that's why I dreamt what I did. In my dream, there was a girl who was assisting what was very obviously a vampire in a derelict shell of a building.
I remember the scene so vividly, even now: the girl never came into focus; all I could see was her long blonde hair streaming down her back while she helped the vampire, who was clearly injured. But then, from nowhere, and somewhat like a horror film, she suddenly snapped her head over her shoulder and all I remember seeing were striking sapphire-blue eyes. As she blinked, they changed into a fierce red, and it startled me so violently that I woke up.
The nights that followed I continually found myself thinking about the girl and asking myself, 'what is she?' It was shortly after that that I realized I was asking the wrong question. While 'the what' was important, the far more imperative question was 'the who?'
Who was this girl? I decided to find out by telling her story.
And so, I began to write… One thing I was really set on doing was creating something original, and I wanted to give a rich and deep history behind the supernaturals of the story. While the journey is very much centered on Lailah, and she is the pivotal point, there is always something greater going on beyond ourselves, and so came the world-building. I wanted to show the origins of the supernaturals and explore the different worlds they emerged from. And so 'The First: Styclar-Plena' and 'The Third: Not yet named in the book!' were breathed into life.
The story itself also served as a great opportunity for me to challenge certain preconceptions – what we automatically assume to be good and bad, right and wrong, black and white, and really twist that to pose questions about the way we judge people and situations.
Naturally, given Lailah and the other characters' circumstances in the story, it also gave me a platform to explore things that I find myself pondering as I get older – things like the sense of self, fear, death and mortality… (yes, I know, I am a bundle of laughs!)
Creating the beings in the book also served as a fantastic opportunity to do something I enjoy doing best: finding the extra in the ordinary and pulling out the ordinary in the extraordinary. Lailah is the embodiment of 'extraordinary' with what she is, but who she is when we meet her is 'ordinary'. In fact, minus the scars she wears, she's pretty much a blank canvas. And so you have a character that is fighting against what she really is, with who she thinks she is and should be.
The challenge with Lailah is taking a girl who wants and initially believes herself to be 'ordinary' and giving her the strength and confidence to grow into her 'extraordinary' skin. Even more challenging is bringing her to a point where she not only accepts it, but also embraces it. And, of course, to further complicate matters, she knows that who she may become might no longer fit with the people and the things that she wants in her life.
Something else I am a fan of is writing in a good old twist! And Lailah and the following books in The Styclar Saga are full of them! As a child growing up I used to watch 'Tales of the Unexpected', which were 15-minute short story episodes that ended, funnily enough, with a twist! I would hazard a guess that my own writing style is heavily influenced by exposure to this type of plot from an early age. I like to be surprised when I read, so, naturally, I like to surprise when I write!
Monday August 4
Tuesday August 5
Wednesday August 6
Thursday August 7
Friday August 8