Welcome to the COMPULSION book trailer reveal & giveaway! I'm so honored and excited to be apart of today's reveal with author Martina Boone. Martina Boone is definitely one of my favorite authors and I just adore her. She has so much respect for bloggers and fans and takes time out of her busy day to respond to fan emails and messages. Authors like that make blogging absolutely worth it!!! Her er debut novel, Compulsion, is one of my favorite books of 2014. Before I share today's trailer reveal, be sure to read a little bit about the book, then watch the trailer, grab the key code below it and enter to win some amazing prizes!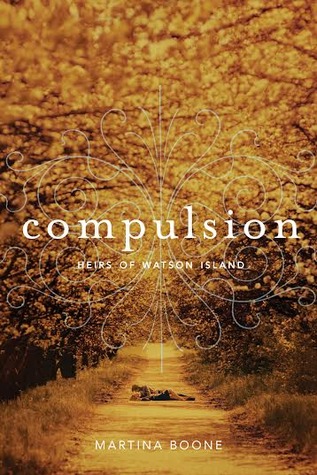 Hardcover, 448 pages
Expected publication: October 28th 2014 by Simon Pulse
Beautiful Creatures meets The Body Finder in this spellbinding new trilogy.
Three plantations. Two wishes. One ancient curse.


All her life, Barrie Watson had been a virtual prisoner in the house where she lived with her shut-in mother. When her mother dies, Barrie promises to put some mileage on her stiletto heels. But she finds a new kind of prison at her aunt's South Carolina plantation instead--a prison guarded by an ancient spirit who long ago cursed one of the three founding families of Watson Island and gave the others magical gifts that became compulsions.




Stuck with the ghosts of a generations-old feud and hunted by forces she cannot see, Barrie must find a way to break free of the family legacy. With the help of sun-kissed Eight Beaufort, who knows what Barrie wants before she knows herself, the last Watson heir starts to unravel her family's twisted secrets. What she finds is dangerous: a love she never expected, a river that turns to fire at midnight, a gorgeous cousin who isn't what she seems, and very real enemies who want both Eight and Barrie dead.
Martina Boone was born in Prague and spoke several languages before learning English. She fell in love with words and never stopped delighting in them. She's the founder of AdventuresInYAPublishing.com, a Writer's Digest 101 Best Websites for Writers site, and YASeriesInsiders.com, a site devoted to encouraging literacy and all this YA Series.

From her home in Virginia, where she lives with her husband, children, and Auggie the wonder dog, she enjoys writing contemporary fantasy set in the kinds of magical places she'd love to visit. When she isn't writing, she's addicted to travel, horses, skiing, chocolate flavored tea, and anything with Nutella on it.
MY KEYCODE:
WHNAKPP
You can grab a key code from one of the participating websites, and enter it in the Rafflecopter form
on this page
, or fill out the Google form to enter with additional key codes. We will combine entries from both forms to select winners.
Whichever form you complete, your mailing address will be required and will need to be correct. With this many prizes, we will not be able to email winners and wait for them to respond. We will not be responsible for lost or misdirected packages.
You'll get extra points for
adding Compulsion on Goodreads
, joining the mailing list for future giveaways, and sharing the book trailer with your friends..
For each 300 views of the Compulsion book trailer on my YouTube channel before 10/1/14, we'll randomly select winners for all the prizes in the Prize Vault and
unlock new prizes at random from Prize Lockup
. On 10/1/14, we'll start unlocking additional prizes for pre-orders.
ALL prizes in both
Prize Lockup
and the
Compulsion Prize Vault
will be given away at random on or before 11/1/14. If we run out, I'll add more to ensure that there will be a minimum of TEN book prize packs (mixed signed and unsigned) given away on 11/1/14, plus additional Compulsion swag.
Want to automatically be entered for ALL prizes left in both vaults? Every single one?
Pre-order Compulsion.
Provide an order or receipt number when you enter, and we'll automatically add you to EVERY giveaway from then on. Even if you've previously won, you will still be eligible for more prizes. So if you see a prize you want, go order Compulsion soon!