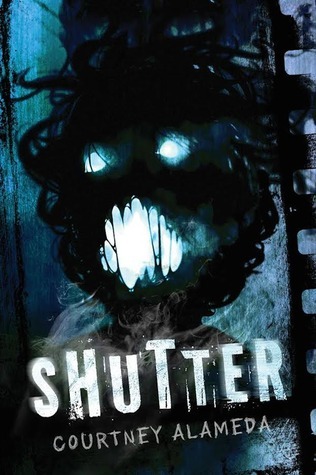 Hardcover, 384 pages
Expected publication: February 3rd 2015
Publisher: Feiwel & Friends
Author: Courtney Alameda
Micheline Helsing is a tetrachromat—a girl who sees the auras of the undead in a prismatic spectrum. As one of the last descendants of the Van Helsing lineage, she has trained since childhood to destroy monsters both corporeal and spiritual: the corporeal undead go down by the bullet, the spiritual undead by the lens. With an analog SLR camera as her best weapon, Micheline exorcises ghosts by capturing their spiritual energy on film. She's aided by her crew: Oliver, a techno-whiz and the boy who developed her camera's technology; Jude, who can predict death; and Ryder, the boy Micheline has known and loved forever.




When a routine ghost hunt goes awry, Micheline and the boys are infected with a curse known as a soulchain. As the ghostly chains spread through their bodies, Micheline learns that if she doesn't exorcise her entity in seven days or less, she and her friends will die. Now pursued as a renegade agent by her monster-hunting father, Leonard Helsing, she must track and destroy an entity more powerful than anything she's faced before . . . or die trying.


Lock, stock, and lens, she's in for one hell of a week. 
Pre-Order Links:
Courtney Alameda's spent her entire career trying to con and cajole people into reading great books. A veteran of the big-box bookstore trenches, Courtney now works as a librarian for the prettiest library you've ever seen, where she spends her time ordering large stacks of YA books, doing readers' advisory, and dressing up as various mythical creatures for a variety of library events.
Courtney has an affinity for brightly colored lipstick, urban exploration, cosplay, video games, and Twitter. If she's listening to music, it's usually Florence + the Machine, Marina and the Diamonds, Rodrigo y Gabriela, or Jason Graves. Her addiction to Dr. Pepper is legendary.



Courtney holds a B.A. in English Literature with an emphasis in Creative Writing from Brigham Young University. She is represented by the amazing and talented John M. Cusick of Greenhouse Literary. A Northern California native, she now resides in Utah with a legion of books and a tiny, five pound cat who possesses a giant personality.
Introducing Courtney Alameda."
"CALL IT REAPER'S INSOMNIA, but the dead wouldn't let me sleep at night. Every time the sun went down, I swore I sensed them stirring, starving.
Killing."
The first thing that drew me to want to read Shutter was the incredibly creepy cover of the book. I mean it is SERIOUSLY CREEPY. I am not even sure how to describe the creature that is portrayed. I can tell you that it is most likely an evil entity because nothing that looks like that could be anywhere remotely defined as good.
In Shutter the characters live in a "future" world where ghosts and the supernatural are a common occurrence and there are even specially trained people who fight to keep the ghosts in the spirit world and away from humans. The main character is named Micheline Helsing. She is a tetrachromat--a girl who sees the auras of the undead in a prismatic spectrum. Micheline is a kick-ass heroine who uses her skills to locate and hunt down the supernatural and uses her camera to exorcise the ghosts and capture their spiritual energy on film. Micheline is so strong and determined and yet so vulnerable. I love this about her character. This makes her seem so real and readers can really relate to her.
Micheline works with a specific group of people that each have certain skills that help them to track down supernatural beings and send them back to where they belong. Oliver is a techo-whiz who also helped to create the camera that Micheline uses to capture the spirits, Jude can predict when death is about to occur by touching someone, and Ryder is the young man that Micheline has loved for as long as she has been alive. Together they make the perfect team to fight the supernatural and keep the balance between good and evil.
While on one of their ghost hunts, Micheline encounters a truly evil spirit that refuses to enter the camera. This spirit places a curse on Micheline called "soulchain curse" that gives her and her companions seven days to defeat the spirit or they will die themselves. Micheline and her companions then begin a journey to discover the truth behind this curse and the mystery of why she and her friends were chosen for this curse.
I am completely and utterly obsessed with horror stories so I knew that I had to read Shutter. Everyone was raving about how intense and incredibly scary the entire book was.....WOW...Let me just tell you that EVERYONE WAS RIGHT....From the very first chapter to the very last chapter I had chills running up and down my spine...The descriptions that Courtney Alameda uses when she is writing about an encounter with a ghost are just so intense and makes you feel as though you are in the room experiencing everything the character is experiencing.. I WAS TOTALLY FREAKED OUT.
"A scorpion.
Made of pressed-together corpses. It crawled on four sets mis-matched arms. Human legs fused together to make a stinger that curled over the necro's back--I'd never seen anything like it, not in anatomy class or Helsing's bestiaries or even in stories. Hyper necrotic mutations didn't generally involve corpses fusing together into one huge nightmare."
Another aspect that I really enjoyed was how Courtney Alameda references classic horror stories within the story. I won't give away which ones she references because that would take away from some pretty special moments......
Shutter is full of blood-chilling situations, evil -killer ghosts, death-defying suspense, and the answer to the mystery that no one will see coming.....
I would recommend Shutter to anyone who who reads horror, suspense, or mystery novels because this book has it all. It has some pretty graphic scenes at certain moments in the book so it is definitely not for the faint of heart....but this is what makes it so memorable...Courtney Alameda is absolutely going on my "Authors To Read in 2015" list....She entered the YA scene with this incredible debut novel and "hit it out of the park." Shutter is one book that will stay with me for many, many nights to come....
**The quotes from this book have been taken from an Advanced Reading Copy and are subject to change when the final book is printed. Please refer to the final, finished copy for exact quotes!**
**I want to say Thank You to Feiwel & Friends for the opportunity to review this book!!**