Paperback, 320 pages
Published January 20th 2015 by BenBella Books
Life and death, light and dark, spirit and flesh-on Wormwood Island, the lines are always blurred. For Anne Merchant, who has been thrust back into this eerily secretive world, crossing the line seems inevitable, inescapable, destined.




Now, as Ben finds himself battling for the Big V and Teddy reveals the celestial plan in which Anne is entwined, Anne must choose: embrace her darkly powerful connection to a woman known as Lilith and, in doing so, save the boy she loves...or follow a safer path that is sure to lead to Ben's destruction at the hands of dark leaders. Hoping the ends will justify the means, Anne starts down the slippery slope into the underworld, intent on exploring the dark to find the light. But as the lure of Lilith proves powerfully strong, will Anne save others-only to lose herself?
Learn more: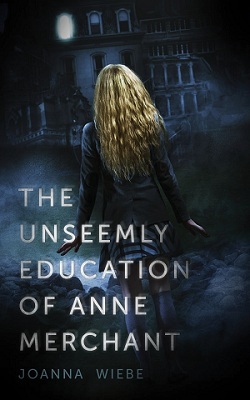 Hardcover, 272 pages
Published January 14th 2014 by BenBella Books
After her mother's death, 16-year-old art prodigy Anne Merchant moves from sunny California to the cold woodlands of Wormwood Island, Maine for what is supposed to be a fresh start. She is the newest student of Cania Christy, an elite boarding school that is as filled with secrets as it is with the world's most privileged—and competitive—teens.





From the first day of school, Anne finds herself thrust into the Big V competition, an intense race to the top of the class. With enviable talents, she quickly becomes the enemy of every junior seeking the Big V—especially Harper, the presumed frontrunner.

Like every student, she is assigned a guardian, and a unique mission. Anne's assignment is to "look deeper." Anne is determined to succeed, and won't let anything —not even her distractingly beautiful neighbor Ben—get in the way. But the deeper she looks the more questions arise, and the more she is forced to reexamine all of her assumptions—about the school, her classmates and even herself.

As layers of secrecy deepen, Anne leans on the friendship of Molly, a lifelong islander, and Pilot, the only junior not competing for the Big V, to make sense of this cloak-and-dagger world. But when people start disappearing, Anne uncovers a stunning truth that she must face head on—before she and everyone she loves is destroyed by it.
Learn more:
By day, Joanna is a copywriter and the co-founder of CopyHackers.com and Page99Test.com, a critique site for published and unpublished writers. As an undergraduate student, Joanna won several academic awards for excellence in creative writing: Canada's James Patrick Folinsbee Prize, which she won twice, as well as the Godfrey Prize.


After graduating, she lived for a year on the remote northern island of Hokkaido, Japan, which is the inspiration for the verdant Wormwood Island of the V Trilogy. She holds a BA in Honors English and an MA in Communications from the University of Alberta and lives with her partner Lance in Victoria, British Columbia.




The Unseemly Education of Anne Merchant is her first novel and the first installment in the V Trilogy.
Who is your favorite character in the book?
One favorite character?! I love Anne – she loves hard, she's insecure, she's bright. But I suppose my favorite character to write is Pilot Stone because he's someone who lets himself do the wrong thing, which is something I very, very rarely let myself do.
Which came first, the title or the novel?
The novel! With my short stories, the title always comes first. But for my novels, the titles are last on my list. If not for my publisher, who begins promoting the book while I'm still writing it, I'd probably wait to craft the title until the day before it was due.
What scene in the book are you most proud of, and why?
Anne has to cut off her hair at one point. Just cut it all off. It's humiliating for her, and she finds it hard to keep her chin up as she walks through campus with this extremely short, clumsy haircut. I loved her for having the guts not to hide, and I loved the response of the Cania Christy kids. When Anne becomes truly vulnerable like this, she finally fits in, which I enjoyed seeing unfold while writing it.
Thinking way back to the beginning, what's the most important thing you've learned as a writer from then to now?
Oh gosh! Right now, as I write the third book, the best lesson I've learned is to beat characters against each other. That sounds harsh, and I don't actually mean create violence amongst your characters. I mean this: don't let a character stand alone for too long because tension arises when people are together, and love happens when people are together, and you can solve problems when people are together. If you let your MC be too contemplative too long, the pacing suffers big-time.
What do you like most about the cover of the book?
Anne's prosperitas thema (PT) is to look closer. If you do that with this cover, you'll have insights into Anne's story that you wouldn't have if you were to accept everything at face value.
What new release book are you looking most forward to in 2015?
Jonathan Franzen has a new one coming out. (The Corrections is in my top five favorite books.) And I'll eat up Kazuo Ishiguro's The Buried Giant as soon as it comes out because Never Let Me Go was the kind of book you never forget.
What was your favorite book in 2014?
I never know what's new or old; I just go through Amazon and follow the path from one book to another, adding to my cart whatever sounds good. So I finally read The Lovely Bones this year – that was brilliant. I loved Code Name Verity, too, and I think that was a new release in 2014.
What's up next for you?
The third and final book in the V Trilogy! I'm knee-deep in writing that right now, and it's going to be ker-ray-zay. After that, I've got two huge outlines nearly done for two very different stories, and I suppose I'll get to see which one of those attacks me as soon as I type "The End" on Anne Merchant's tale.
Is there anything that you would like to add?
Much love to my blog tour hosts and, of course, to everyone who reads my books! I'm in the small-publisher-big-heart category of the book world, so I truly appreciate every single person who lets me participate in their daily escape from reality.